NEWS NOTICEBOARD
Welcome to Alkrington Primary School and our website.
Parent's Evening
An opportunity to speak to you child's class teacher has been arranged for the following dates and times:
Reception to Y6: Wednesday 6th October 3.30-7.00p.m.
Nursery: Tuesday 12th October 10.30 a.m. - 16.30 p.m.
Thursday 14th October 8.30 a.m. to 4.45 p.m.
For further details, please see letters below:
Nursery Parent's Evening Letter
Reception-Y6 Parent's Evening Letter
Trips to Robinwood
The re-arranged Y6 trip is from Wed 22nd to Fri 24th Sept. Fingers crossed that all goes well.
If you need another kit list, click on the link below:
The trip for Y5 children is booked for Mon 6th to Wed 8th Dec 2021.
A letter inviting the Y5 children to sign up has been given out. I encourage you to do so, at the heavily subsidised rate of £25 per child or £15 if your children is currently entitled to free school meals. Below is a copy of the letter:
Robinwood Y5 Trip Letter December 6th to 8th 2021
I am happy to take any questions or respond to any concerns that you might have about sending your child on this trip. I strongly believe that it will be of great benefit to all who attend.
You can give your consent by returning the slip and making payment later, or by making a payment on ParentPay.
COVID Risk Assessment and Outbreak Management Plan
See the documents below, which detail our plans for the management of COVID in our school, and the actions necessary when an outbreak of infection occurs.
We welcome any comments, questions or suggestions
COVID Risk Assessment Updated Sept 2021
A Guided Tour of Alkrington Primary School
It has been difficult during the last 18 months for parents and others to visit our school. If you are interested in looking around, with a view to applying for a place for your child, please contact the school office and we will try to accommodate your request.
You can have a sneak preview in our virtual tour. Click the link below to see
Back to school
There's more information in the letter on the link below, about the return on Monday 6th September. The issues dealt with are:
COVID related measures in place on return

Changes during the summer break

Breakfast and After School Club changes

Reminders about uniform PE kits, school meals, dinner money

School attendance

Holiday schedule for 2021 - 2022
Back to school letter 3rd Sept 2021
The Return to School in September 2021
Most children are due to return on Monday 6th September. Arrangements for the new Nursery and Reception children vary.
We are making some changes to the COVID control measures in place in school, meaning that many aspects of a normal school life can return. Our plans are based on the guidance from Government, which you can read via this link:
https://www.gov.uk/government/publications/actions-for-schools-during-the-coronavirus-outbreak/schools-covid-19-operational-guidance#tracing
Measures in school will be adapted and full details of these will be shared with you, following discussion with Governors and Staff. One change, which will affect you all, is that the school opening and closure times return to normal pre-COVID arrangements:
School doors open at 8.45 a.m. for the Nursery and 8.50 a.m. for everyone else
School begins at 9.00 a.m.
School finishes at 3.15 p.m.
Breakfast and After School Club are operating back to normal.
Please be responsible whilst waiting on the playground, and if you wish to, wear a face covering.
The school office will be open prior to school opening for the children. Contact the admin. staff if you need help, on 0161 643 6357
Many enquiries are about school uniform and PE kit. Click on the link below for all the details:
Go wild for reading with the Summer Reading Challenge!
For this year's Challenge The Reading Agency has partnered with WWF to create 'Wild World Heroes' which will inspire children to take action for nature and the environment. Join the Wild World Heroes for an exciting adventure in the fictional town of 'Wilderville'. Through reading books, collecting rewards and learning all about our planet, Challenge participants will help the Heroes make Wilderville a greener place to live. With exclusive incentives to collect and plenty of brilliant books to enjoy, the Challenge is the perfect summer activity to build young readers' skills and confidence during the long break from school. The Challenge is available in libraries across the UK this summer. Children can also take part online through the official digital Challenge platform wildworldheroes.org.uk/school-zone-src
COVID Related Changes from 19th July
See the letter below with details of the changes to COVID isolation routines in school
Rochdale's Summer Holiday Offer for Families July 2021
This summer there will be 2,500 places available for children eligible for free school meals and vulnerable children open to to social care and Supporting Families to access. Children can access 4 hours a day, 4 days a week for 4 weeks during the summer. If you think you're eligible and would like to know more click the link below.
Vaccination clinics available to residents aged 16 and over
A number of drop-in vaccination clinics, being held across the borough over the next few days will offer vaccinations to any eligible resident aged 16 or over.
Second vaccinations will also be available to residents who had their first vaccination over four weeks ago at a number of clinics.
No appointment will be needed for the clinics, and details are listed below, so if you have not had either of your vaccine doses please attend one of the clinics if you are able to. If you had your first dose over four weeks ago, please attend for your second dose.
Please also encourage any eligible resident aged 16 or over to attend. This week's clinics that are available to eligible residents aged 16 and can be found on the Council's web site: http://www.rochdale.gov.uk/covidvaccine#FirstVaccNoAppt
New Classes and Staff for September 2021
See the letter below which details the classes for September and which children will be with which teacher and TA. Any questions? Please contact school.
Survey of parents/carers about Home Learning Provision
Thanks to those of you who completed the survey in the last few weeks.
The results provide a very positive picture of the provision and many complimentary comments, thank you! There are also constructive comments to help us improve. Have a look:
Remember this.....Happy 70th Birthday Alkrington Primary School
For those of you who have been with us for a while, you might recall the following event from 10 years ago, as reported in the Middleton Guardian.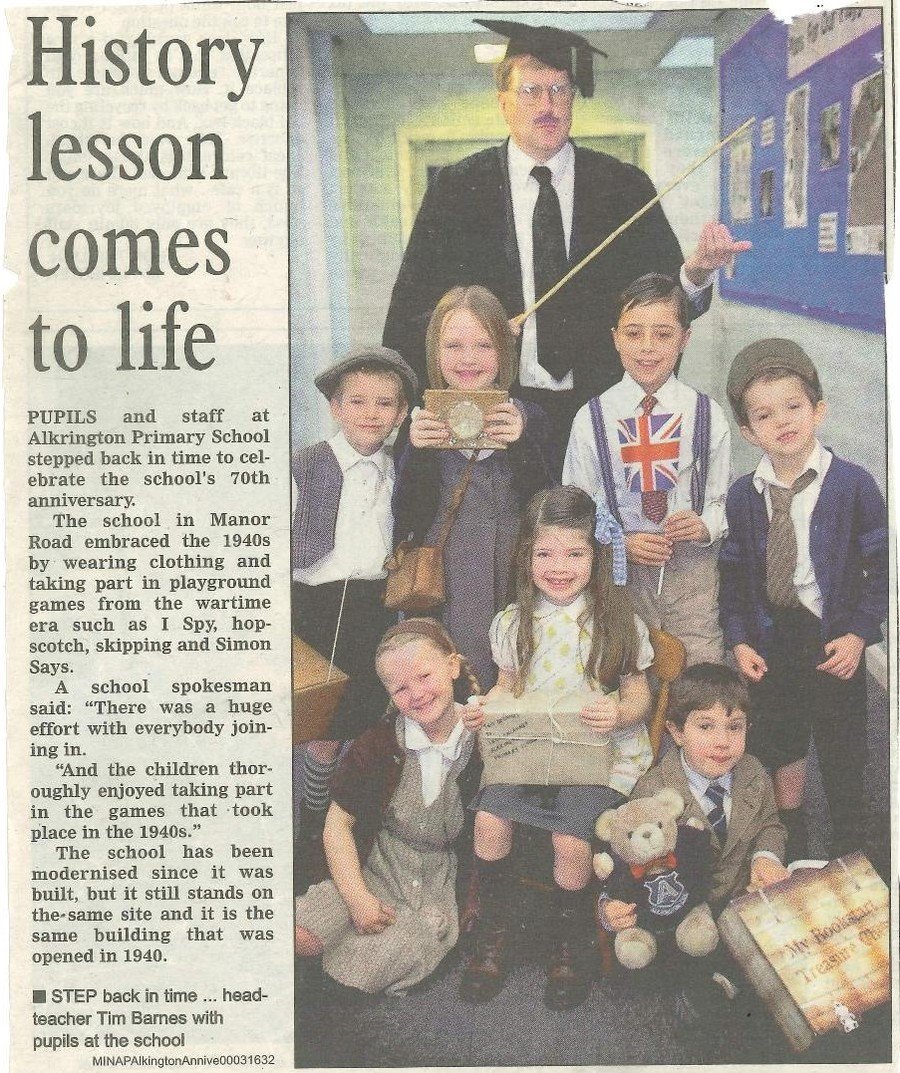 Happy 80th Birthday Alkrington Primary School
Thank you to all who supported our special day by dressing up or sending in memorabilia to make the event an enjoyable and informative one. Particular thanks to:
Local history expert Geoff Wellens, Vintage car owner Kevin Croft, Miss Ford & her mum who sourced lots of old artefacts, & Miss Pilkington's Grandma, Pat.
There are plenty of pictures on our school Twitter account, which also appear on the school website Home page.
I enjoyed looking though the old school Log Books, which had to be completed by the Head Teacher in those days.
Alkrington Temporary school opened in 1937, situated in the hall at the United Reformed Church on Manchester New Road with 14 pupils.
Alkrington Junior and Infant School opened on this site on 9th December 1940, with 80 pupils.
The country was in the midst of the Second World War, so entries in the Log Book mention the building of shelters, school closures after air raids the night before and practice in shelters during the school day. Lots of entries mention low attendance due to illnesses such as scarlet fever, whooping cough, measles and chicken pox. Also a number of closures due to severe winter weather.
I noted with interest that in 1938 the school closed for the Christmas holiday at 4.00 p.m. on 24th December. Not leaving much time to prepare for the big day!
I hope that the children enjoyed the day. I enjoyed giving the children a taste of school discipline as a 1940s Headmaster!
See the pictures below, a sample of the outfuts worn on the day.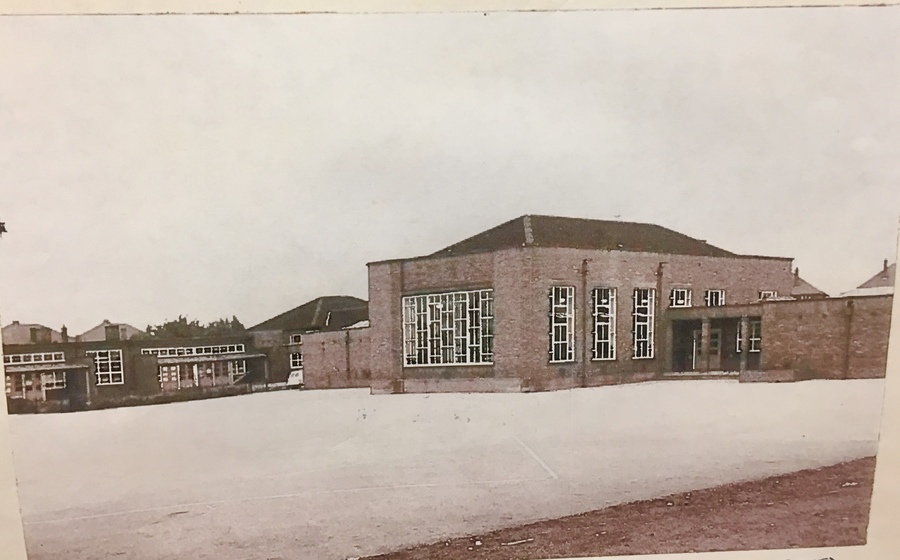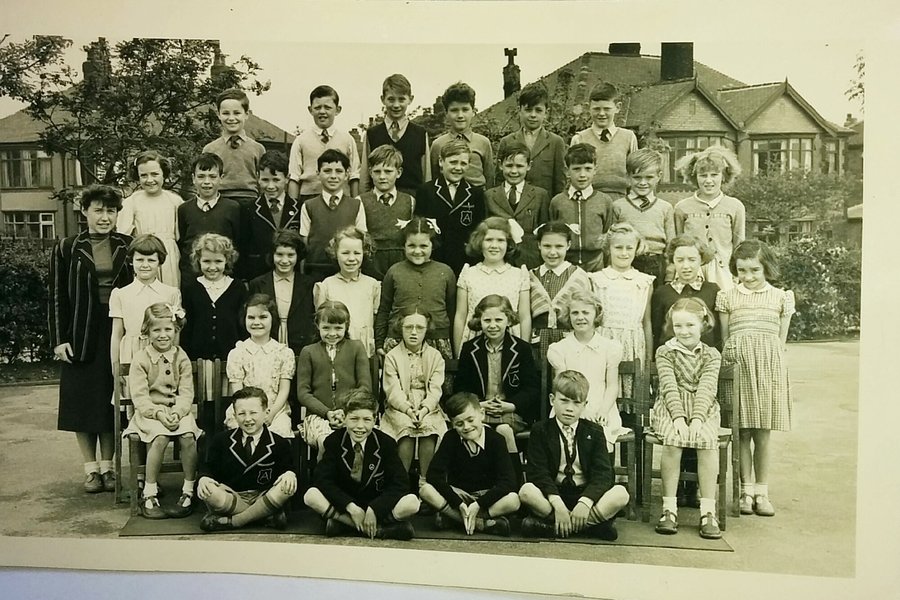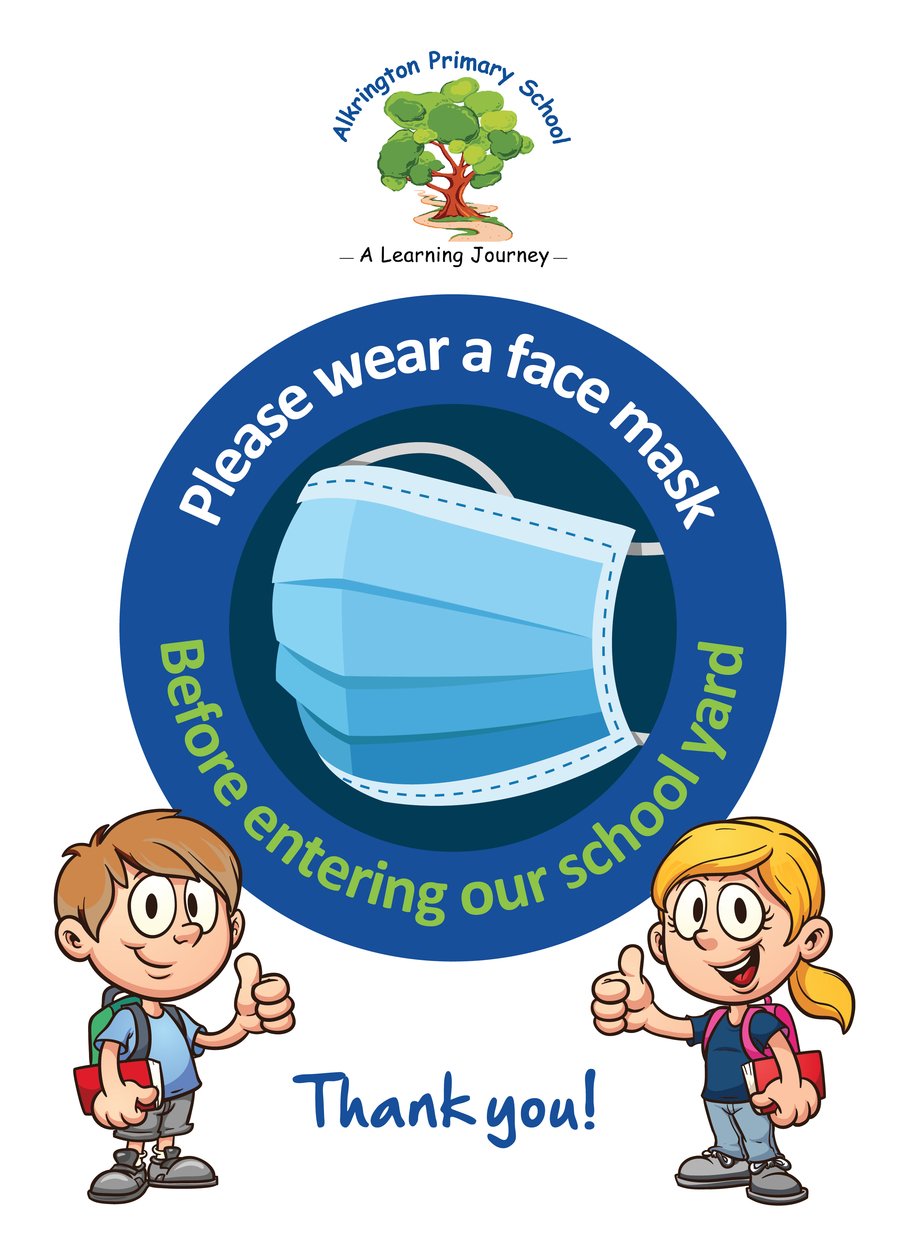 Face Coverings
In line with advice from Rochdale Council; please wear a face covering when dropping off and collecting your child from school.
The school Governing Board
See below for details of membership of the Governing Board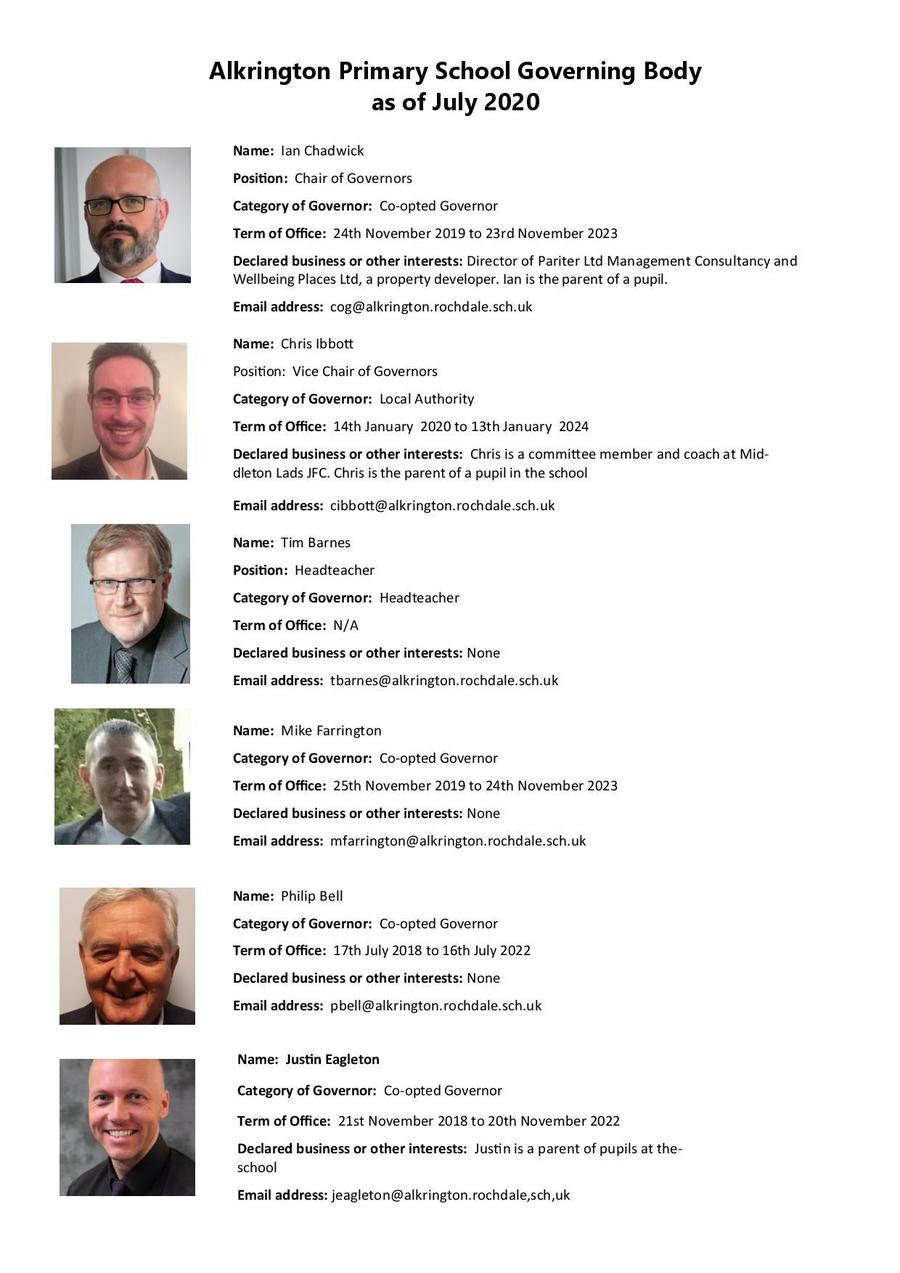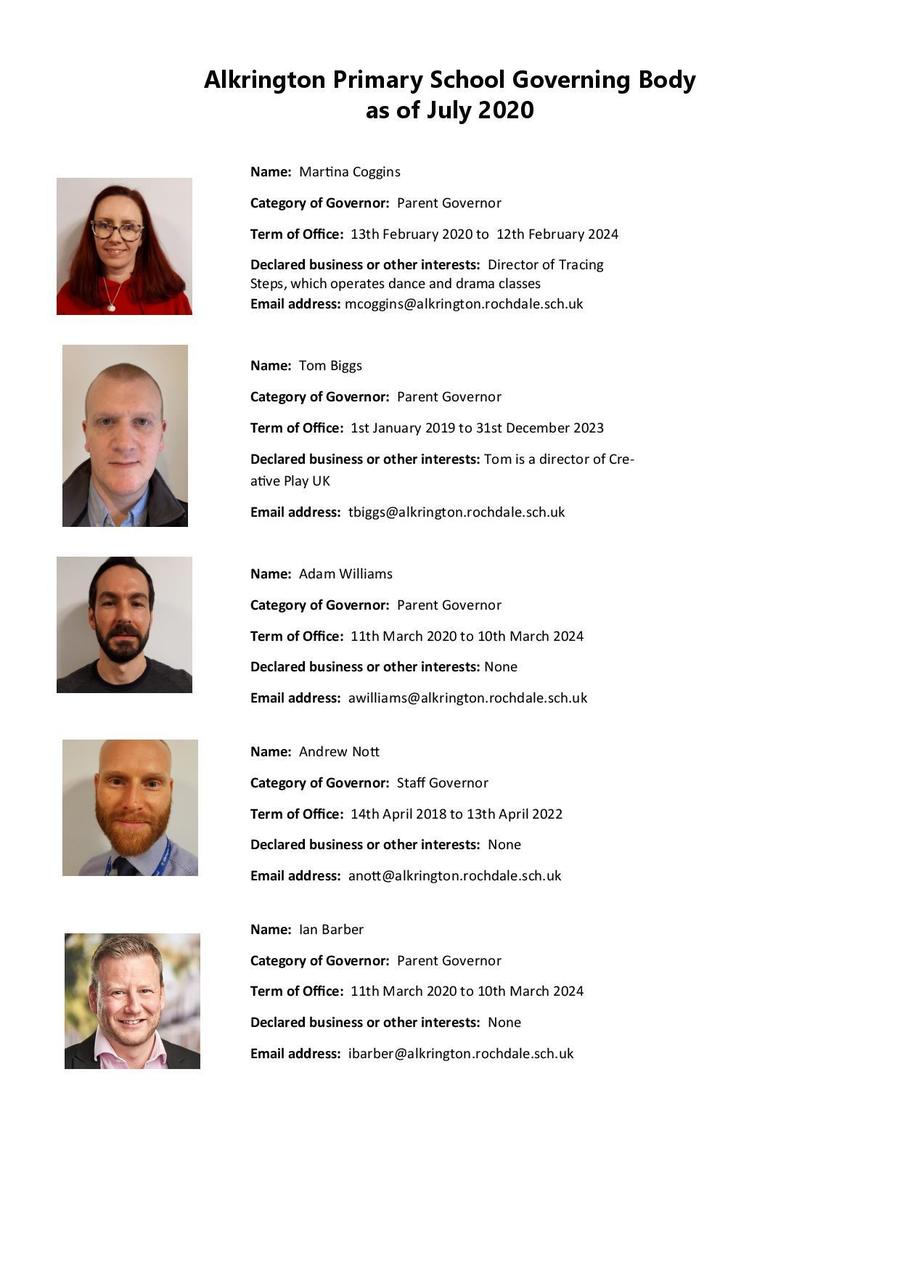 Rochdale Additional Needs Service (RANS)
RANS are still working hard to support children with additional and special needs and their families
Have a look at the services available by opening the document below
Safe After School Campaign
Please read and cosider the information on the poster below - which wants to help you check that clubs and activities that your child might attend out of school are safely and appropriately organised. For more information search for RBSCP Safe After School
Defibrillator
Thank to your generous donations, we now have a community defibrillator fitted into a secure cabinet attached to our school fence. You can find it near to the entrance to the staff car park.
The defibrillator is for use by anyone in need, and can be accessed by calling 999 in an emergency. The operator will tell you the code to open the cabinet.
Well done to Mr Nott, who has been the inspiration behind this scheme, and to those who raised the funds to pay for it, including Jenson Bleakley-White, who raised an incredible £400 towards our total.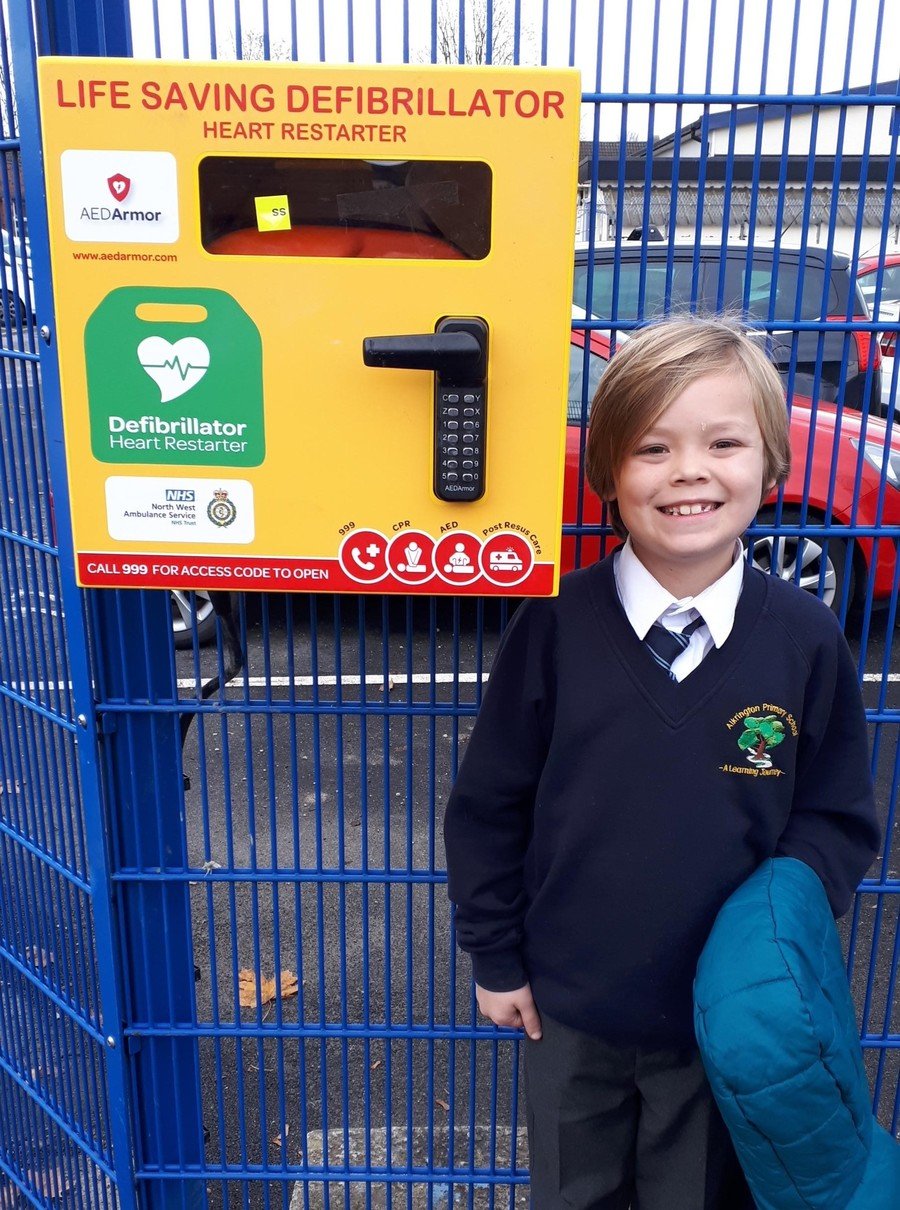 Breakfast and After School Club ( BC and ASC )
To make sure that we have all of the correct information and can accomodate as many children as possible, please complete, where needed, and return to the school office the following forms:
Holiday Patterns
The holiday schedule for the current school year and next is available by clicking: Here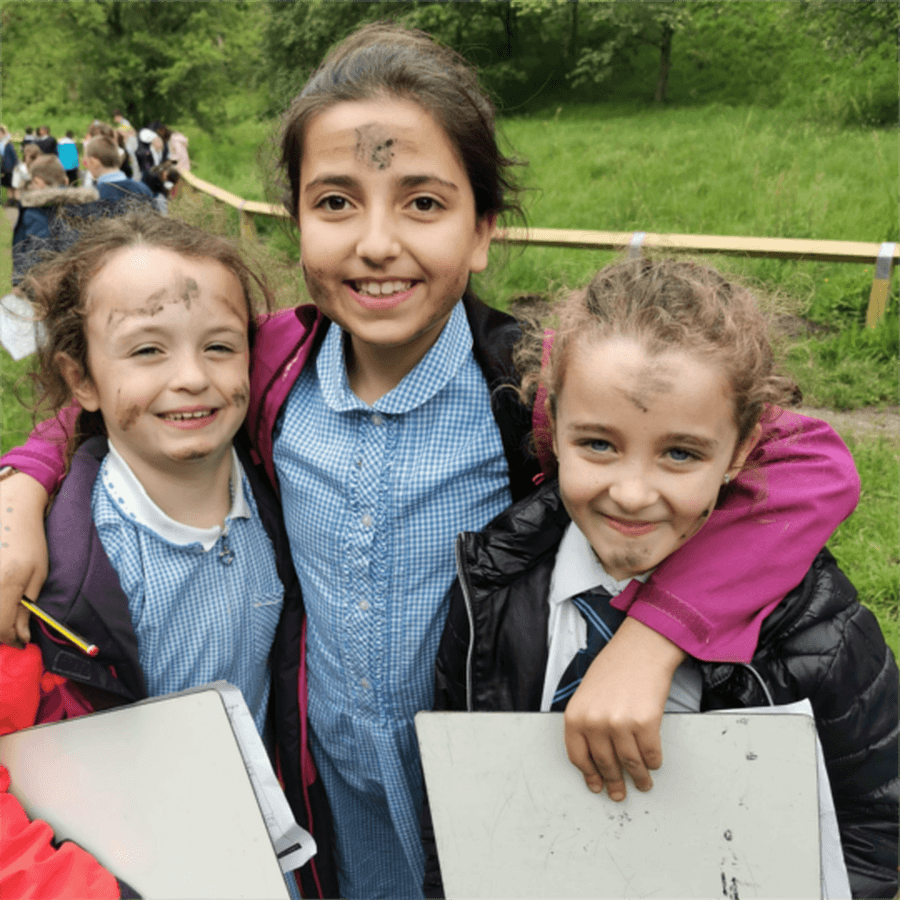 Latest Alkrington Primary Events
Robinwood Trip Y6

22

Sep

2021
School Closes for October Holiday

22

Oct

2021

3:15 pm - 3:15 pm