NEWS NOTICEBOARD
Welcome to Alkrington Primary School and our website.
Reports and Books - 10th July
End of Year reports to parents are being distributed this week and next. If your child is not attending school you can collect the report from the school office. Give the office a ring beforehand. Any problems with this, please let us know.
Pupil workbooks will be given to the children to take home. Alternatively they can be collected from the school office.
Home reading books need to come in with children when they are next in school.
If your child is not attending school right now, you can leave them in the labelled box outside the office.
Y6 Leavers' Event on Friday 17th July
We have plans for a safe and socially distanced event to mark the last day for our Y6 children. We hope that you will be able to attend. See the details on the letter below.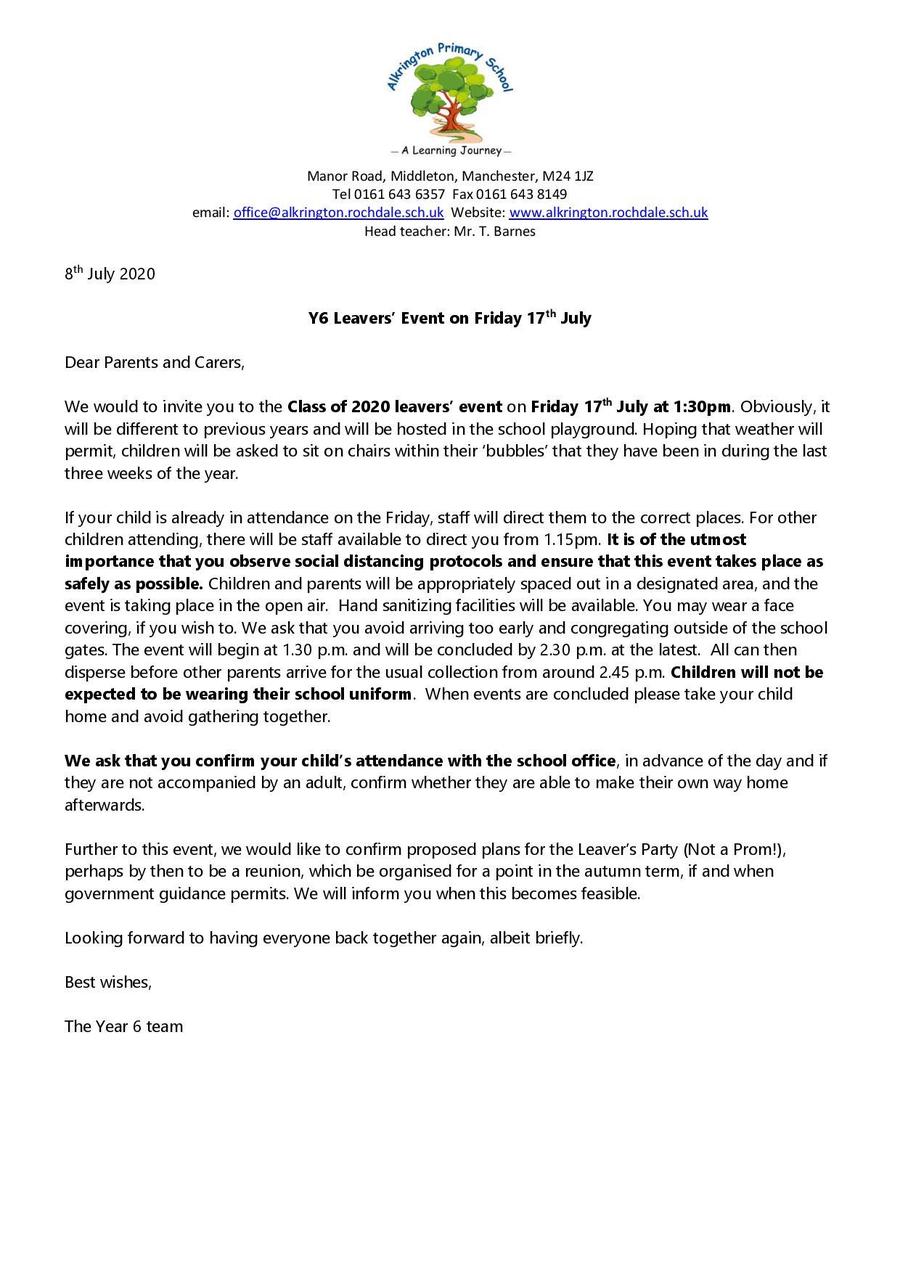 Plans for September
See the letter below with details of classes, transition arrangements and staffing for September
Information for the new starters, in Nursery and Reception will be emailed round to those parents/carers. For those children, some will start on Thursday 3rd September, whilst other during the week beginning Monday 7th September.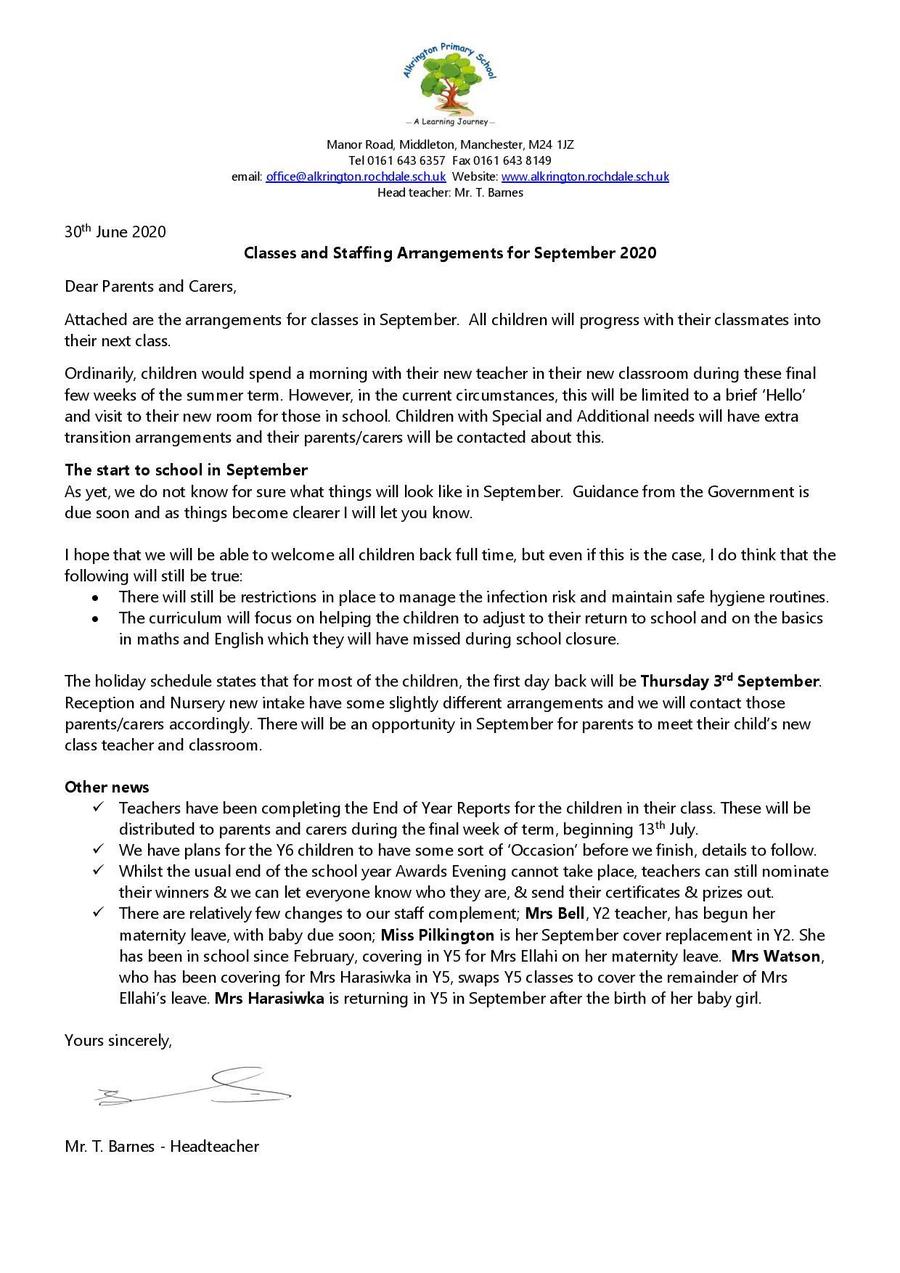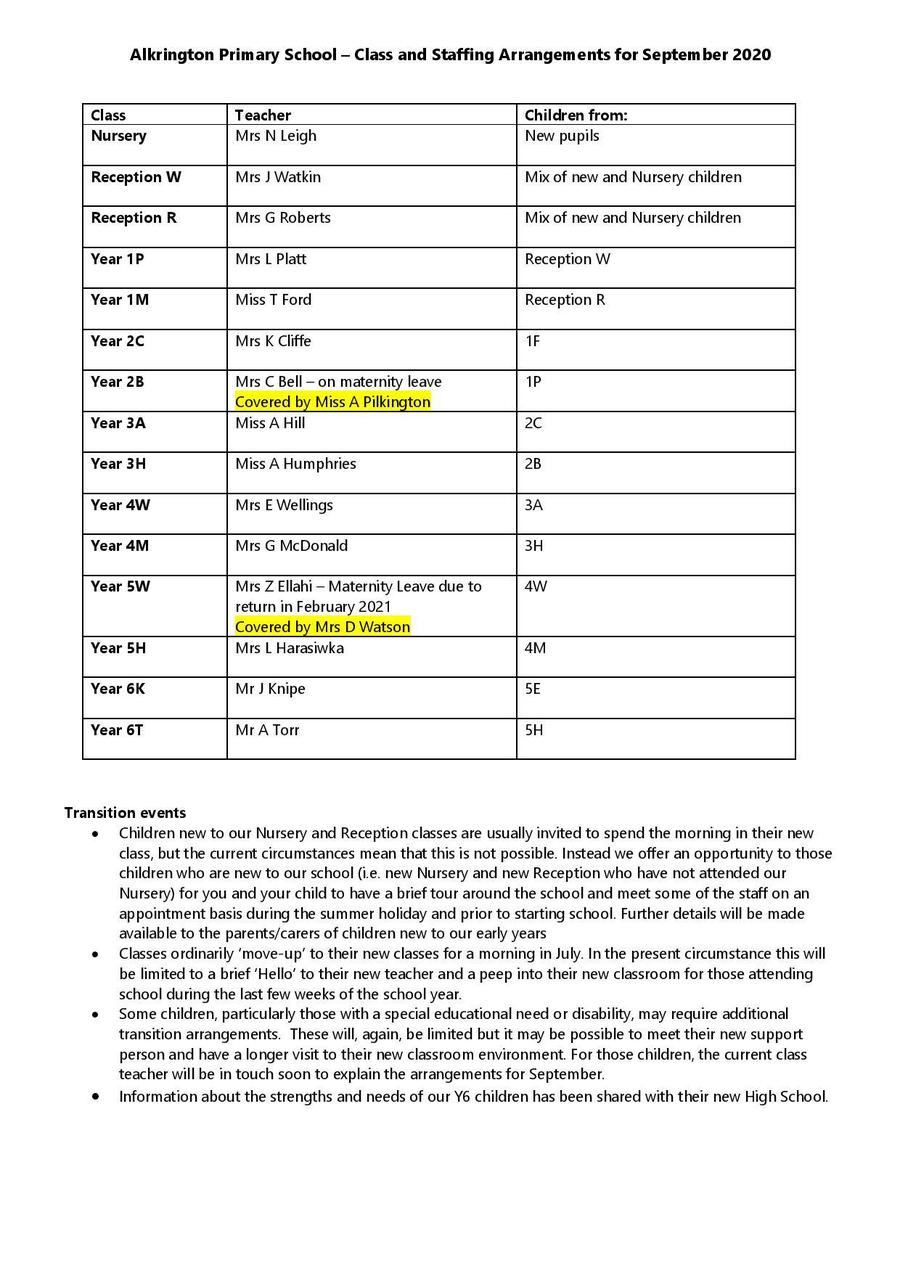 The school Governing Board
See below for details of membership of the Governing Board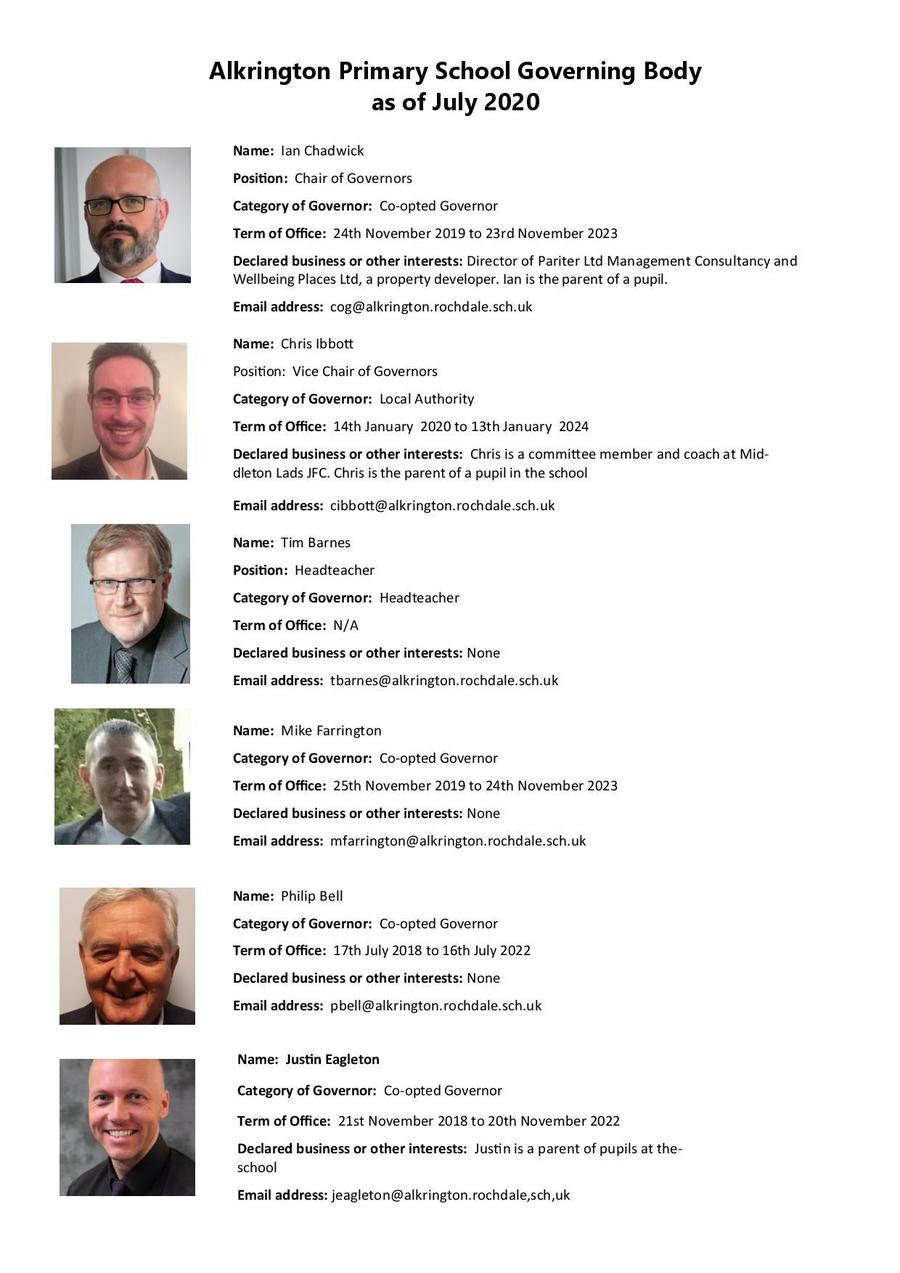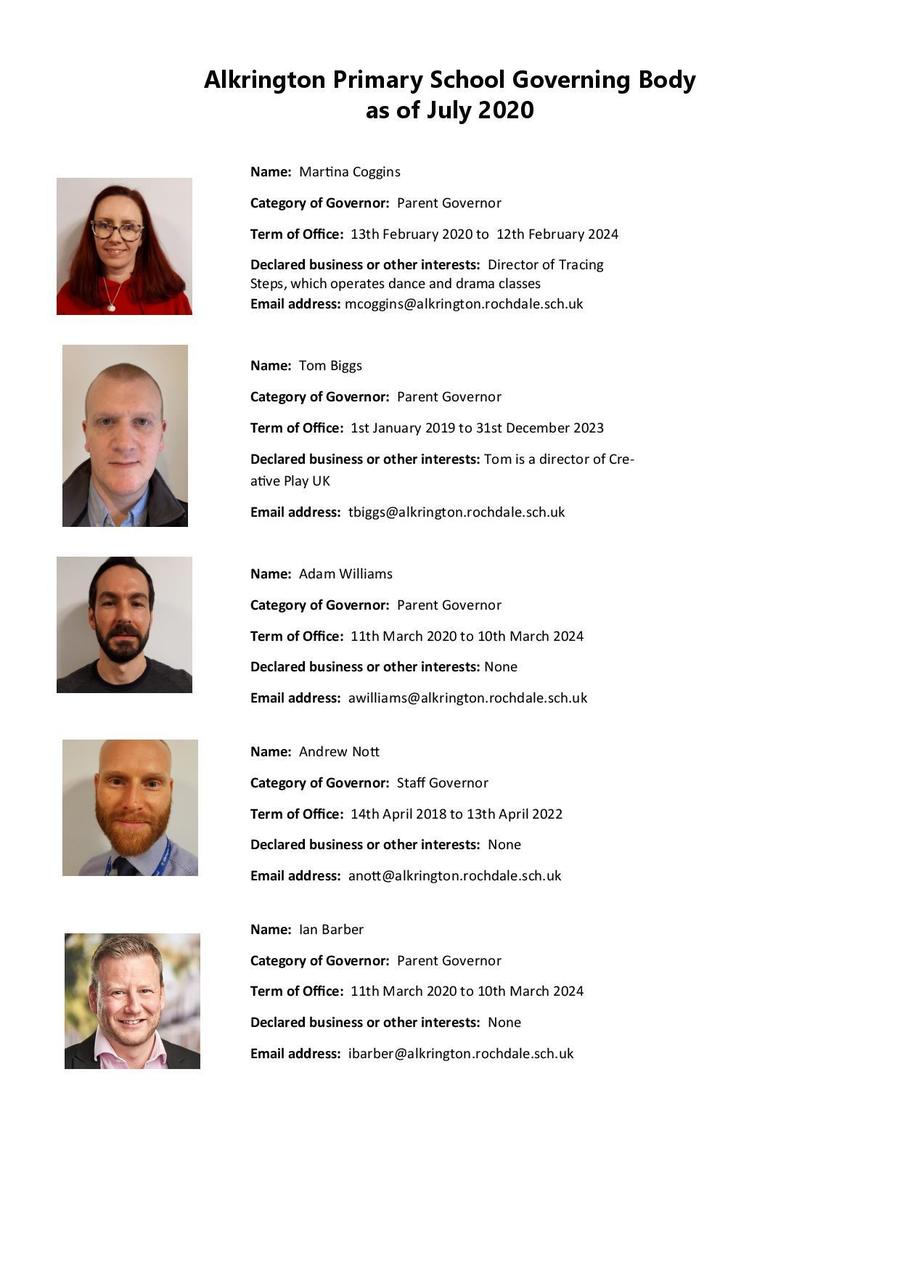 25th June 2020
See the latest update below, regarding the arrival of children from all year groups as from 29th June.
Parents/Carers - By now you will have been contacted by school to tell you which days your child(ren) will be attending. If you haven't please contact the school office.
Please note the recommended arrival and departure times for each group on the letter below. Please ensure that you do not congregate when collecting your child at the end of the day.
With the arrival of more pupils we have put some additional measures in place to keep everyone as safe as possible.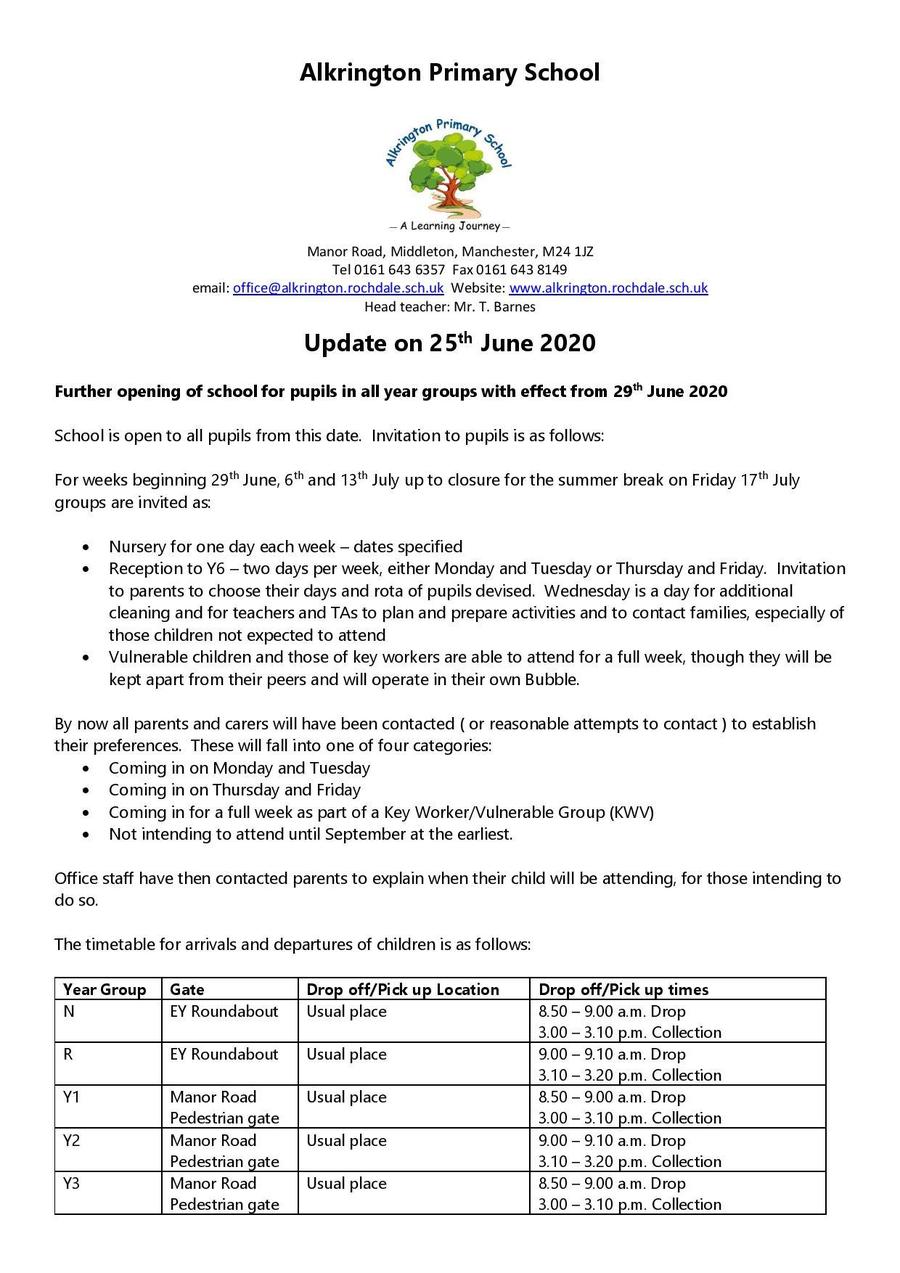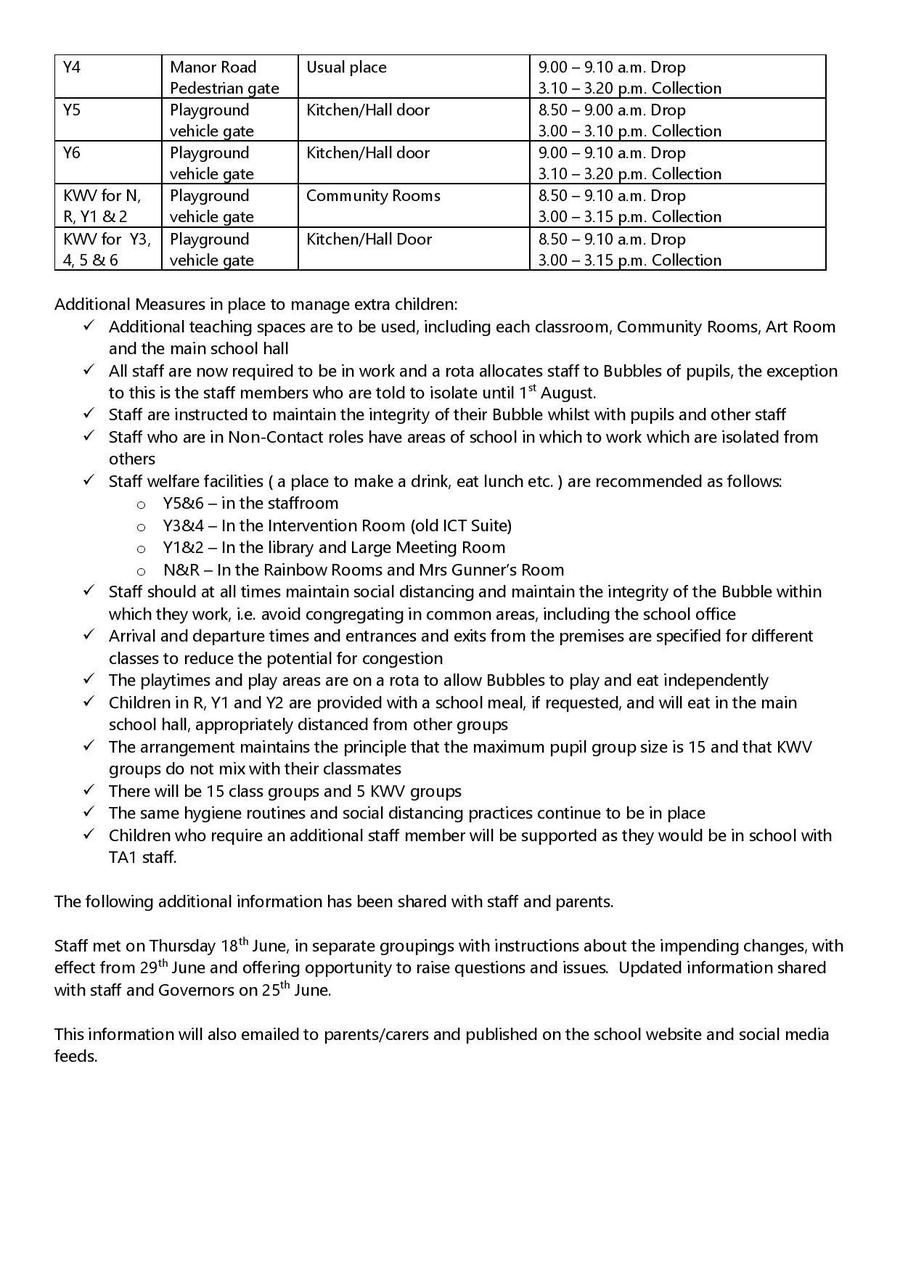 22nd June 2020
Wider Opening of school from 29th June
You will probably have heard the news about more children being able to attend school from next Monday, the key points are these:
Children in the key worker and vulnerable groups can continue to attend school all week;

Children in Y1 and Y6 will step down to a part-time timetable

Therefore children in R to Y6 will be able to attend for two days for each of the remaining three weeks of the school year; either Monday+Tuesday OR Thursday+Friday

Nursery children will be allocated a day to allow their child to attend one day each week ( there are 51 children in the N class )

Staff have been attempting to contact parents to ask which option they prefer. By Wednesday this week, class groups will be organised and made available to you. Lists will probably contain children's initials as distributing names is tricky these days!

Plenty of safety measures in place to minimise infection risk - see posting below for details.
22nd June 2020
New starters in the Nursery and Reception Classes
Expect some contact from school this week about the starting plans for September. An email will be sent with details of each child's teacher and planned starting dates. Attached will be a Booklet with lots of information to help your child make a successful start.
If you do not receive an email from school by the end of this week, please let us know.
22nd June 2020
Y1 & Y6 children in this week along with Key Worker groups. Next week ( beginning on 29th June ) we will welcome all year groups from R to Y6 on a part-time basis, either Mon+Tues or Thur+Fri. Key worker groups can keeping going for a full week. See pictures on the Twitter link on the right showing some of the measures to help to keep us safe
Safety measures at Alkrington to keep us safe include:
*Plenty of sanitiser & PPE available
*Bubble Boxes, for groups to use, with sanitiser & their own playgound equipment
*Hall & playground sectioned off
*Children distanced in classrooms
*Signage to remind everyone about safe distancing
*Staggered pick up and drop-off times, using all of our gates, fully opened to reduce congestion.
19th June 2020
Our plan for opening school to all pupils as from 29th June, is, in effect a part-time arrangement for most pupils. Contact will be made with parents and carers as to whether they wish their child to attend school for the final three weeks of the school year or not, and if they do, would they prefer Monday and Tuesday OR Thursday and Friday.
I appreciate that for the parents/carers of children in Y1 and Y6 this is a change from the full-time attendance their child may have enjoyed this week and next, but the plan from 29th June allows ALL children in school.
Key Worker and vulnerable pupils may continue to attend for a full week. Alternatively they may choose to attend in their class group, but ONLY for their chosen two days each week. See the letter below for more details
Letter for parents - Opening on 29th June for all year groups
The measures in place to minimise risk to pupils, which were put in place from 15th June will continue to apply. See the letter below for more details and some adaptations for the opening for more year groups.
Safety Measures - returning to school for 29th June
18th June 2020
Since the school closure on 20th March 2020, most children have not attended school. Here are our plans to make it possible for all children in our school to attend before school closes for the summer holiday. This closure date will now be Friday 17th July, not Thursday 16th July as previously advertised.
School has remained, and will remain open for the children of key workers and for vulnerable pupils, including through the Easter and Whit holidays.
On 15th June we opened school to all pupils in Y1 and Y6. They have had the opportunity to attend for the full week. About 60% of those pupils have, to date, been in school.
With effect from 29th June we hope to be able to provide all pupils in school with the opportunity to attend school. We believe that it is important to give children the chance to meet their teachers and friends and catch up with home learning and be prepared for more before the summer break. Teachers will organise groups which are aimed at maintaining friendship groups. We aim to ensure that your child will be taught by their usual class teacher, though, for a number of reasons, this will not be possible in every case.
Children of Key Workers and Vulnerable pupils, will be able to continue to attend for a full week, Monday to Friday. They will operate within a group which is fixed in its membership. This will not be mixed in any way, for COVID-19 safety reasons, with the rest of their class who attend on the part-time basis.
Our plan is for other pupils to be able to attend on a part-time basis which, for most classes, will be two days each week, either on Monday/Tuesday, or Thursday/Friday. Arrangements for the Nursery will be different, and more details will follow.
Breakfast Club will continue to be available but only for children of Key Workers and Vulnerable Pupils.
After School Club will not operate from 29th June until the last day of term, Friday 17th July. Only a very small number of children have been attending and the complexity of keeping groups apart and staffing and supervising the children have become too great.
We intend, over the next few days, to contact all parents and carers to establish the numbers we will need to deal with in order to plan accurately. Please have a think about your preferences and let us know when we get in touch.
11th June 2020
Please see the details on the letter to parents about the wider opening of school with effect from 15th June
Please note the following important points:
Attendance, for eligible pupils, is encouraged but not compulsory.

School cannot eliminate the risk of COVID infection and cannot guarantee social distancing between pupils or staff, but measures in place will reduce the risk

This plan will operate for two weeks, beginning 15th and 22nd June. If successful, we would like to welcome more children as from 29th June.

Children attending do not need to wear school uniform, but should change clothing each day

Staggered starts and use of different gates for Y1 and Y6 are detailed in the letter.

Children in Reception, Y1 or Y2 ( R & Y2 in the KWV Group ) are entitled to a free school meal, provided by the school kitchen. Please let us know if you want to have one. Otherwise all children attending school should bring a packed lunch.

All parents currently receiving FSM vouchers, will continue to get them.

Breakfast Club and After School Club will continue on a reduced basis and a charge is made for use.
10th June 2020
The beginnings of a return to school
Rochdale LA has given approval for school to open more widely for additional pupils with effect from 15th June.
From this date, all pupils in Y1 and Y6 will be able to come to school for a full school day, Monday to Friday.
Those children who have been attending during the school closure, children of key workers and vulnerable children, will also be able to continue coming in.
This plan will operate for two school weeks, and will be reviewed with a view to admitting more pupils on 29th June, until the end of the school year.
Breakfast Club will operate from 8.00 a.m. and After School Club until 5.00 p.m. but there will be a daily charge for this service. Please only use this facility if it is strictly necessary and ensure that the school office are aware beforehand.
More details will be made available in a letter tomorrow.
8th June 2020
Wider school opening
We are still waiting for approval from Rochdale LA to open school to our Y1 and Y6 pupils from 15th June. As soon as we have any news we will let you know, hopefully with reasonable notice.
Transition Matters
For our current Y6 children, soon to move up to their High School, we are in contact with High Schools to pass on relevant information which will help with their transition.
For those moving on to Middleton Technology School, the link below is to their transition Facebook page, you might be interested to have a look.
https://www.facebook.com/MTStransition2020/
For our new starters in September in our Nursery and Reception classes, have a look at the virtual tour of school, on the link below:
https://my.matterport.com/show/?m=yZ5dyTj8wqk
29th May 2020
School continues to be open for children of key workers and for vulnerable children, as it has been for many weeks. Our plans to introduce a charge for the use of Breakfast and/or After School Club, will not begin until there is a wider return of more pupils.
Any wider opening for more pupils will not happen until Monday 15th June at the earliest. We wait for Rochdale Council to give the go ahead for this plan. We will let you know as soon as we can.
26th May 2020
Latest news: Rochdale LA have advised that their schools do not open for more pupils until 15th June at the earliest.
We will now aim to open for Y1 & Y6 pupils on that date, whilst those who have been attending regularly, children of key workers and vulnerable pupils can continue to do so. More news will follow.
Take care & stay safe
15th May 2020
A quick update for parents and carers.....
You will be aware of the messages given by the Prime Minister regarding the re-opening of schools in the coming weeks. I hope that you will appreciate that there are many practical arrangements which will need to be put into place before we can welcome more pupils back to school to an environment which is as safe as can be reasonably expected for staff and pupils.
We expect that by the middle of next week we will be in a position to provide more information about which children will be able to return to school, when and what safety measures we will be able to put in place.
In the mean time, the school remains open to children of key workers and those who are most vulnerable, as it has been since the closure on 20th March. School will remain open to these pupils, though we will be closed for the bank holiday on Monday 25th May. Teachers will continue to provide work for children to complete at home, online and on paper if needed.
If you have any questions, please contact the school office on 0161 643 6357 or at office@alkrington.rochdale.sch.uk
Rochdale Additional Needs Service (RANS)
RANS are still working hard to support children with additional and special needs and their families
Have a look at the services available by opening the document below
RANS Services during School closure
3rd April 2020
School is open in Easter holidays for eligible children, including Bank Holidays. If your child is attending, please send a packed lunch with your child. Free School Meal vouchers are available in term time to some, ask for details. Your child might now be eligible.
Apply at: http://rochdale.gov.uk/schools-and-education/Pages/free-school-meals.aspx
More help on the letter below: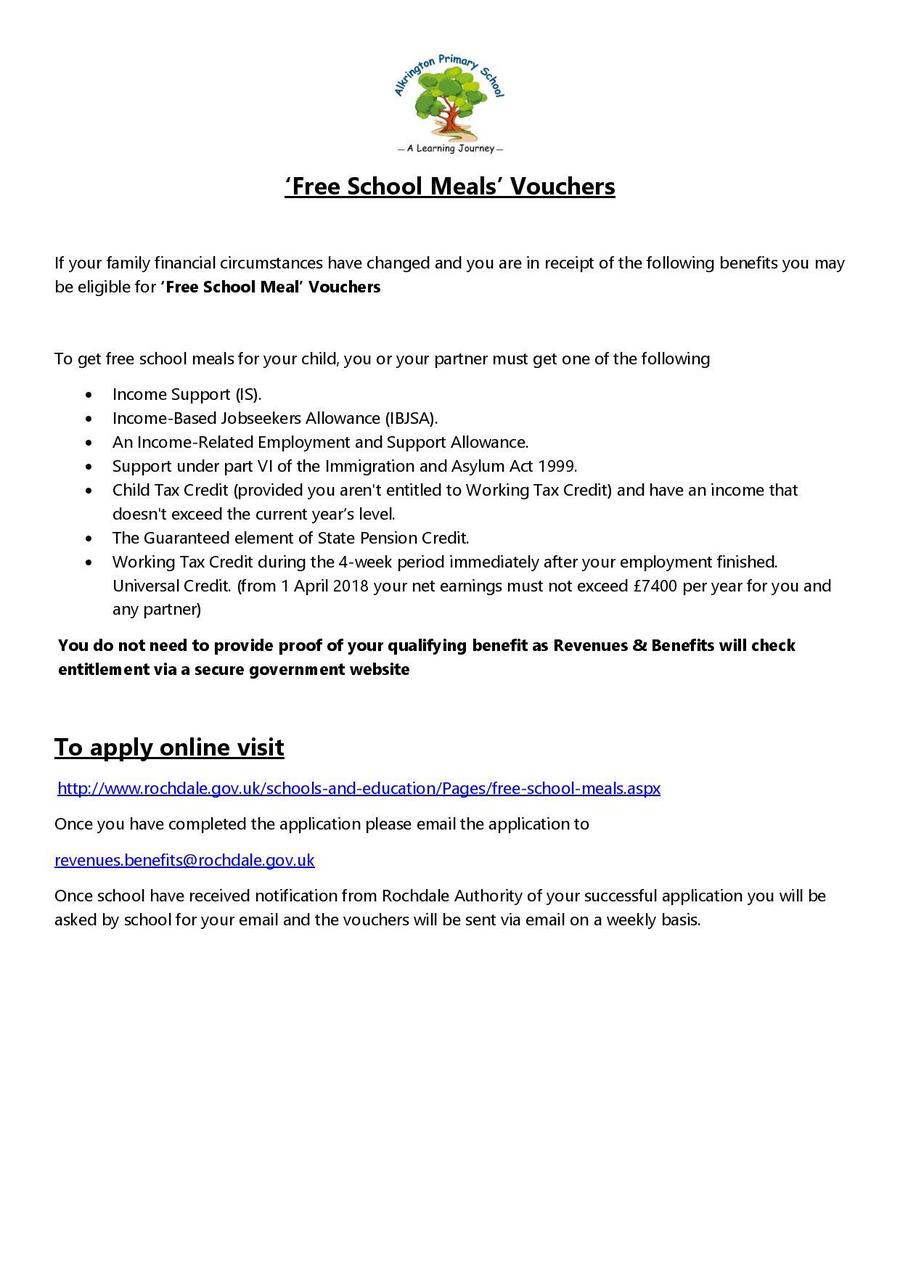 2nd April 2020
School will be open for the full weeks beginning 6th and 13th April - 8.00 a.m. - 5.00 p.m. If your child is eligible to come - vulnerable children, or those of key workers - please let us know when you need us to help us with staff planning.
1st April 2020
The scheme for providing for children entitled to free school meals is now open.
If your child is entitled to Free School Meals you should have received a message about the new voucher scheme. If you haven't, please contact school and provide an email address as soon as possible.
The scheme will provide vouchers for each child, who is entitled due to their circumstances, to the value of £15 per week which can be spent at major supermarkets.
For more details click on the link below:
https://www.gov.uk/government/publications/covid-19-free-school-meals-guidance/covid-19-free-school-meals-guidance-for-schools
School Closure update - 27th March 2020
School remains open for the children of critical workers and vulnerable children.
This week we have had a maximum of 28 and a low today of 11.
School is open from 8.00 a.m. to 5.00 p.m. Monday to Friday. Staff attend on a rota. There will always be someone in the school office to respond to your emails and calls.

It looks likely that school will remain open, for those who qualify, during the Easter period. More details to follow.

For many children and families, we will be making regular contact to make sure that all is OK and to identify any problems.

Teachers are busy preparing, posting and monitoring the work done by children. They have a list of which children have, or have not, accessed the online materials so far. This may be for a perfectly valid reason, so they are there to help. The school office is open between 8.00 a.m. and 4.30 p.m. to help, or email on office@alkrington.rochdale.sch.uk.

We still have home learning packs at school for collection. Some have been delivered, others might be on the way.

If your child is entitled to a Free School Meal (FSM) you may order a 'Grab Bag' from school for collection. Please ring by 9.30 a.m. A scheme which provides vouchers for these children is on the way, more details next week. The vouchers are, I understand, worth £15 per week per child. If you believe that your child might be entitled,

to complete an online application

go online to:

http://www.rochdale.gov.uk/schools-and-education//Pages/free-school-meals.aspx

If your personal circumstances mean that you might be applying for Universal Credit, it is likely that this will result in eligibility.

We will do our best to help in these difficult circumstances - just give us a call.
Stay Safe!
School Closure Update - 22nd March 2020
See the letter below for further advice.
Key Message
Children should only be attending school is absolutely essential because parents are directly involved in the critical response to COVID-19. School staff will be challenging parents to ensure that this is so.
Maintain as much social distancing as possible.
School Closure Update - 20th March 2020
The 'official' list of Key Workers is now available - click here for details and further advice about the arrangements for those children who might be able to continue to attend school.
Latest News on Coronavirus and school
See the attached letters with some of the questions that you might need answers for. To summarise:
Online learning links for homework
Safe After School Campaign
Please read and cosider the information on the poster below - which wants to help you check that clubs and activities that your child might attend out of school are safely and appropriately organised. For more information search for RBSCP Safe After School
Ambition and Aspiration
We would like to encourage our children to look to the future and think about what might lie ahead in their lives. To that end we are organising events in Community Week, beginning 23rd March, which might give children an insight into the world of work.
We already have a number of volunteers willing to come and talk to the children about their jobs and what is involved and how they 'got there', but we need more.
If you feel that you could contribute, and spend some time talking to a group about your job/career, please contact Mr Nott at school.
If you have a link with a local business and would be keen to work with us in any way, also contact Mr Nott.
Defibrillator
Thank to your generous donations, we now have a community defibrillator fitted into a secure cabinet attached to our school fence. You can find it near to the entrance to the staff car park.
The defibrillator is for use by anyone in need, and can be accessed by calling 999 in an emergency. The operator will tell you the code to open the cabinet.
Well done to Mr Nott, who has been the inspiration behind this scheme, and to those who raised the funds to pay for it, including Jenson Bleakley-White, who raised an incredible £400 towards our total.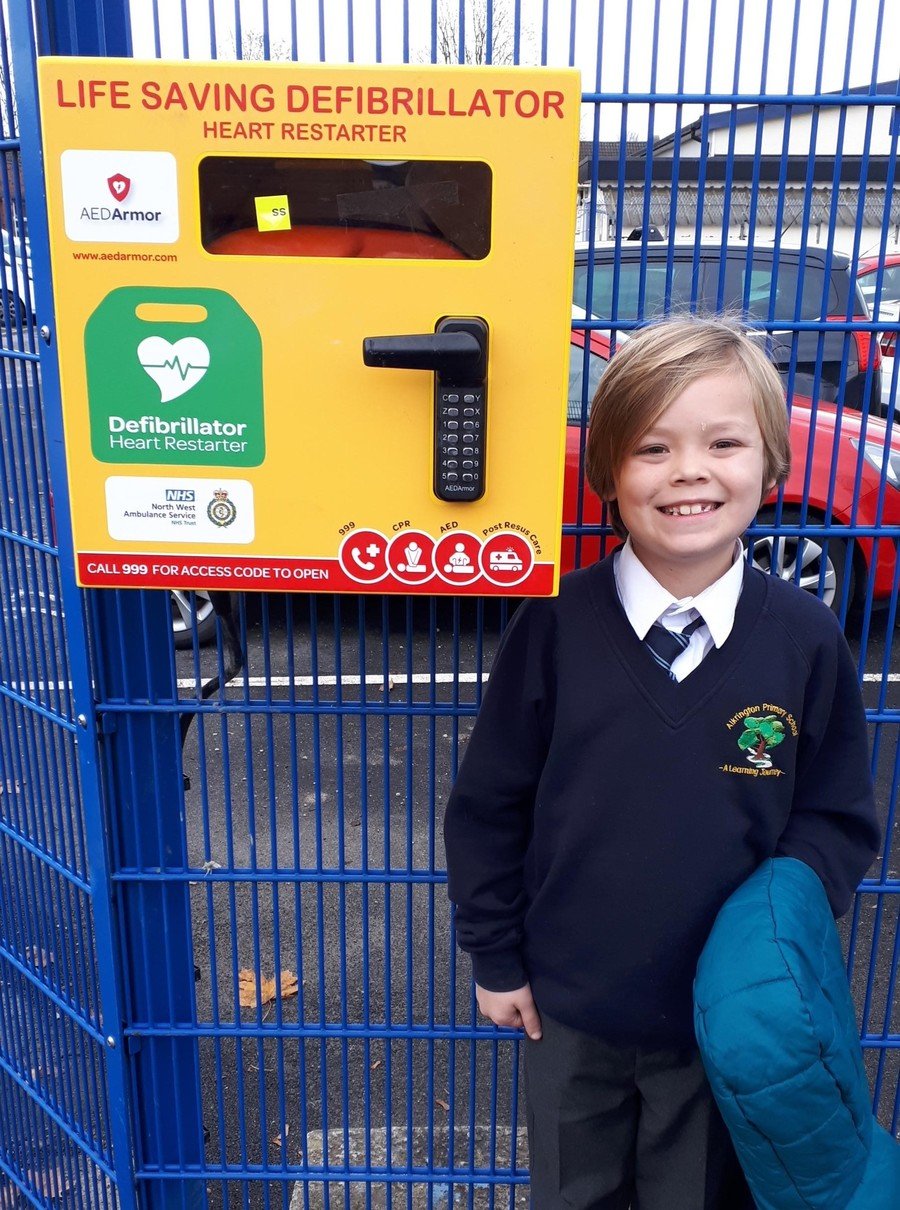 Inter-School Cross Country Champions 2019
The final race took place at St. Mary's RC Primary School on 13th November.
The results for our school teams:
Y3 1st Place Y4 1st Y5 1st Y6 2nd
Overall our school was in 1st place. This will be the fourth consecutive year when our school have been winners of this event.
Congratulations to all of our runners. Medals have been presented to each of the children who have represented our school in at least 2 of the 5 races this season
Well done to the winners of the final race.
Harry Ireland Y3 boys Chloe Millar Y4 girls
I have posted a summary of team results on our Twitter page
Thanks to the staff who have helped us to achieve this: Mr Kelly, Mr Nott, Mr Lawlor, Mr Torr and Mrs Platt
Racing to Read
From week commencing 18/11, school will be running a reading incentive to encourage our pupils to be reading at home as often as possible. The planners will be checked weekly to update how many times a child has read at home, which will be logged on our school reward chart. Please can you ensure that your child is reading at home regularly (not necessarily always with an adult or the school band book) and planners are signed to show this.
Parents' and Carers' Questionnaire
Click on the link below to look at a summary of the results from the survey conducted during Parents' Evening on 9th October. Thank you to the 257 respondents who took the time to respond and to our School Councillors who carried out the survey.
Parents' Questionnaire Results Oct 2019
Times Table Rock Stars
After the October holiday, we will be launching TT Rockstars across school for children from Y1 upwards. It is an online 'game' used by many schools across the country which encourages and rewards the learning of times tables. Your child should have their login details in the front of their planners. Please check that they can log in at home and if there are any issues, please let your child's teacher know.
Phonics and Welcome event in Reception
Thank you to all those parents/carers who attended our phonics/welcome event. As requested, the PowerPoint is available below.
Breakfast and After School Club ( BC and ASC )
To make sure that we have all of the correct information and can accomodate as many children as possible, please complete, where needed, and return to the school office the following forms:
Holiday Pattern for 2019 - 2020
The holiday schedule for the current school year and next is available by clicking: Here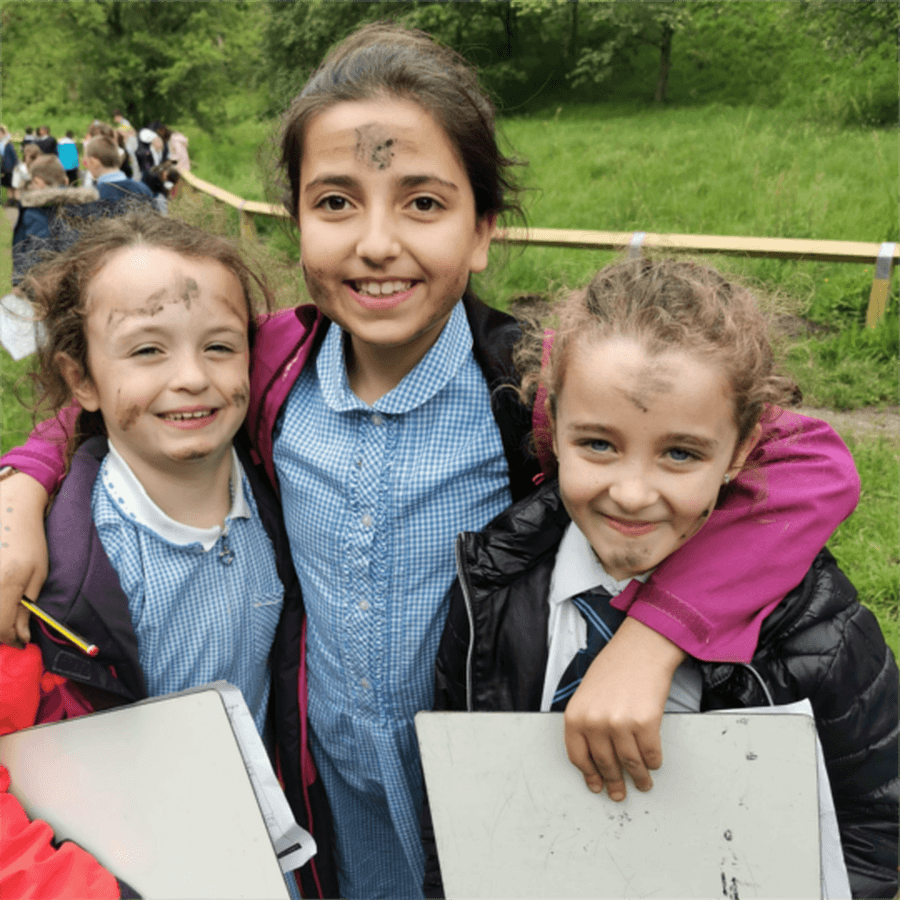 Latest Alkrington Primary Events
Y6 Leavers' Assembly

16

Jul

2020

11:00 am - 12:00 pm

Y6 Leavers' Assembly starts at 11.00 a.m. Y6 children finish school at 1.00 p.m.
Break up for Summer holiday

16

Jul

2020

3:15 pm - 4:15 pm

School closes for the summer holiday School re-opens again for pupils on Thursday 3rd Sept 2020
Staff training day

17

Jul

2020

9:00 am - 3:30 pm

Staff Training - details TBC
Summer holiday

17

Jul

2020
Summer Holiday

20

Jul

2020