Welcome to the website of
Alkrington Primary School
************************************************************
Outbreak of Scarlet Fever
A very small number of children at our school are suspected to have contracted scarlet fever. It is a mild illness but can have some complications, so we all need to be aware of what to look for, how to respond and how to prevent spread of the infection.
A copy of the letter sent to parents and carers on 20th March can be viewed by clicking here
Detailed advice from Public Health England is to be found at:
https://www.nhs.uk/conditions/scarlet-fever/
In order to reduce the spread of the infection:
keep your child away from nursery or school for at least 24 hours after starting antibiotic treatment – adults should stay off work for at least 24 hours after starting treatment

cover your mouth and nose with a tissue when you cough or sneeze – throw away used tissues immediately

wash your hands with soap and water often, especially after using or disposing of tissues

avoid sharing utensils, cups and glasses, clothes, baths, bed linen, towels or toys
* * * * * * * * * * * * * * * * * * * * * * * * * * * * * * *
Bags2school scheme
Please could you help our Eco team raise some money by filling the bags sent home with your child. Clothing, bags, shoes and bedding are needed but please do not include duvets,pillows or cushions. We would appreciate it if the bags could be returned to school on Tuesday 27th March before 9 am as the bags will be collected that morning.
Thank you for your support.
Alkrington Primary School - Old Pictures
Scroll down the page for more images from days gone by. Some new ones added to the collection. Thanks again to Colin Tunnicliffe. Keep them coming folks!
OfSTED Inspection
Our school was the subject of an OfSTED Inspection on Tuesday 30th January 2018. The inspection was for for one day and was conducted by one inspector, Mr Ahmed Marikar.
The inspection was conducted under Section 8, for schools which were previously judged to be 'Good'
The 'headline outcome' is that:
The school continues to be a 'Good' school and Safeguarding is effective
The letter to the school and parents, carers and governors is now available to view. Click on the link below:
Alkrington Primary School OfSTED Letter February 2018
Thank you to those parents and carers and pupils who provided feedback to the Inspector in the various forms available, i.e. on Parent View, by text survey etc.
Admission to the Nursery Class for September 2018
Apologies that this has taken longer than usual this year.
The Governing Board have agreed to increase the capacity of our Nursery Class, for 3 and 4 year old pupils, with effect from the 1st September 2018.
Capacity will increase from 30 full time equivalent places to 43.
This will be achieved by making alterations to the Nursery classroom, including part use of the adjoining room and some adjustments to the cloakroom areas. Also an additional member of staff will be deployed to work in the Nursery.
The Governors have agreed an admissions criteria for the nursery, which the school controls, unlike other age groups in the school, which are managed by the LA, They are:
Children with an EHC Plan or undergoing an assessment to be considered for an EHC Plan

Children in public care, or who have been looked after by the Local Authority

Children who have a brother or sister in the school on the date of their admission.

Distance from the school, closest has priority.
To those parents and carers who have applied for a place for the September 2018 start; they will be notified in the coming weeks as to whether their application has been successful.
Any questions? Ask at the school office.
/ / / / / / / / / / / / / / / / / / / / / /
Easter Holiday Club
We are running a Holiday club from Monday 9th to Friday 13th April. It will be based in the Community Rooms - where the After School Club operates. It will be open from 8.00 a.m. to 5.00 p.m. A letter will be sent to parents and carers to explain and a copy is available by clicking here.
The base cost is £16 per day, half day rates are available and discounts for a full week and for siblings. Participants are required to bring a packed lunch.
Disco and Talent Show
This event for children in KS 2 takes place on Thursday 8th March at 6.30 – 8.30 p.m.
Entry is by ticket only, on sale from Monday 26th February at break time alongside Tuck Shop, priced £3.00 each. The number of tickets is limited, so get in there early to avoid disappointment. All proceeds go the Robinwood fund.
Those who wish to show off their skills, dancing, singing, telling jokes etc. must also buy a ticket and will be given the opportunity to register their 'entry' in the week beginning 26th February. It is possible that there will be more interest than it is possible to accommodate on the evening. If this is so, I will make another occasion, e.g. in assembly for those children to perform.
* * * * * * * * * * * * * * * * * * * *
Safety and Welfare Concerns
We have been alerted by parents about the following concerns:
66668 Bongo
This is a number, which charges a premium rate for calls. One parent discovered that their child had run up an excessive bill on the child's mobile phone.
Magnetic Putty
This has been removed from sale over fears about the presence of arsenic.
Monitor Usage
We encourage you to make regular checks on your child's internet usage. For example social media posts. We often have to follow up disputes and distress caused by the interaction between children on social media. Some postings are abusive and contain offensive language. If you have a concern, please screenshot the postings as evidence.
Not only is this upsetting for many of those involved, which is the main reason why they should not do it, but it also leaves a digital 'footprint'.
Staff at school are able to help with these matters. If you would like help, please ask. If sufficient numbers of parents are in need of help it would be possible to set up sessions where parents and carers get direct support.
There are 'apps' which enable parents to monitor and control use by their children. Search for 'parental controls' in the App/Play store on your device.
School Online Payment System
This system will begin, for just dinner money at first, on Monday 19th February.
A letter with the details was sent to parents and carers this week. It contained personal, individual log-in details. If you have not accessed this please let us know.
An anonymised version of the letter is available by clicking below:
School Online Payment System letter
If you are unsure, please ask. A 'Drop-In' help session will be available on Monday 26th, Tuesday 27th February and Thursday 1st March from 2.30 - 4.00 p.m. Ask for Mrs Hill.
***************************************************
Alkrington Primary School in 1940
In the year in which the school opened, this picture was taken, some parts of the school look unchanged, others not. See below.
Thanks to Renee, who found the picture in the local library and forwarded a copy.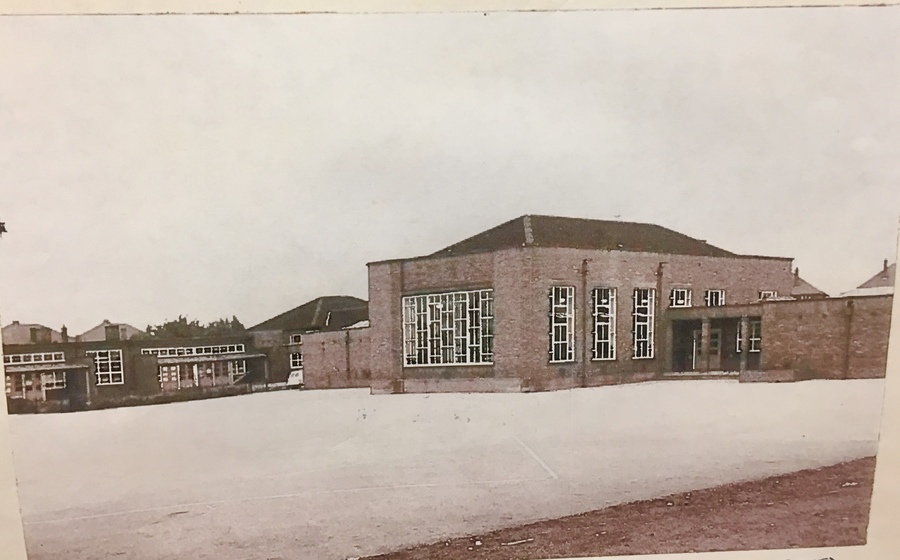 Curriculum Newsletters Spring Term 2018
Look in the tab 'Curriculum Newsletters' for copies of the sheets sent home during this week. These include detail of topic areas to be covered in each year group this term along with other reminders about homework, PE, trips etc.
* * * * * * * * * * * * * * * * * * * *
NSPCC PANTS Scheme
You may have seen the advert on TV, promoting the NSPCC programme to support and protect young children from abuse.
In school children in the younger age groups, Nursery Reception, Y1 and Y2 will have some of this content delivered in class.
Click here for a copy of the letter sent out to parents/carers in Early Years and Key Stage 1
Cut and paste the link below into your browser for more information:
https://www.nspcc.org.uk/preventing-abuse/keeping-children-safe/underwear-rule/
* * * * * * * * * * * * * * * * * * * * * * *
'In days gone by'......at Alkrington Primary School
My thanks to Colin, one of our grandparents, who sent some pictures from our school in the 1950s. The pictures show Miss Grundy's class hard at work during the year 1951/2 and other class photos from c. 1955.
If any other parents, former pupils or grandparents would like to share the images of their former school days with us, please send them in.
*****************************************************
Access to Health Services
The NHS have notified us about the availability of health services in Rochdale for children.
If your child has a minor ailment and you are not able to get an appointment with the GP, you can telephone 01706 676777 and been seen by a medical practitioner subject to their availability.
The full details are on a letter available if you click here
Middleton Schools' Cross Country Champions 2017
Congratulation again to our magnificent cross country runners who were crowned champions for 2017 after the final race of the season at St. Mary's Primary School on 5th December. This was managed without our Y5 team, as the children were at Robinwood. Their score for that race is calculated as the last two boys and the last two girls in each race, hence in Race #5 we didn't win the event as in the previous four races.
However, overall our school finished in 1st place. Our teams finished:
Y3 – 1st Place
Y4 – 2nd Place
Y5 – 1st Place
Y6 – 2nd Place
Click here for a link to the overall results.
Thanks to Mr Kelly, for training and organising the squad, Mrs Harrison, who helped with training and collected scores after the races and Mr Nott who helped organise the events and teams for the races.
Some of our individual runners deserve a special mention too, for their high finishes. No individual awards are made, but if they were these children would have been in strong contention:
Y3
Ethan McGovern finished 1st, 1st, 1st, 1st and 1st
Grace Foster: 2nd, 1st, 2nd, 4th and 2nd
Amelia Frater; 1st, 2nd, 3rd, 2nd, 3rd
Y5
Matthew Ireland: 1st, 1st, 2nd, and 1st
Niamh Dolan: 3rd, 1st, 1st, 1st
Y6
Yasin Al Abbas: 2nd, 3rd, 4th, 5th and 4th
Nesly Esposito: 5th, 7th, 1st and 3rd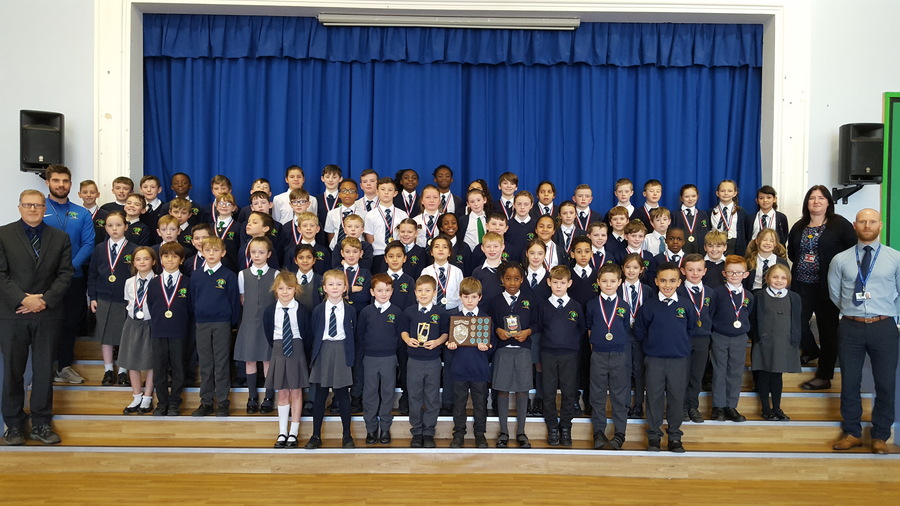 Y5 Children at Robinwood Outdoor Centre near Todmorden
Our year 5 children, all 58 of them, and staff, had a great time at Robinwood for their three day visit.
See a few images below, and for more visit Class Blogs/Year 5
Y3/4 Team
Y4: Shantel, Madiha, Theo and Alfie
Y3: Dylan, Isa, Imogen and Noah
Year 3 & 4 Times Table Champions
Well done to our team who won the competition on Friday 20th October against teams from Boarshaw and Elm Wood Primary Schools. The team consisted of:
Y3 Zaynab Ahmad, Isa Hussain, Daisy Eagleton and David Pop
Y4 Shayla Nene, Anas Ajani, Theo Pearson and Madiha Hussain - all pictured below: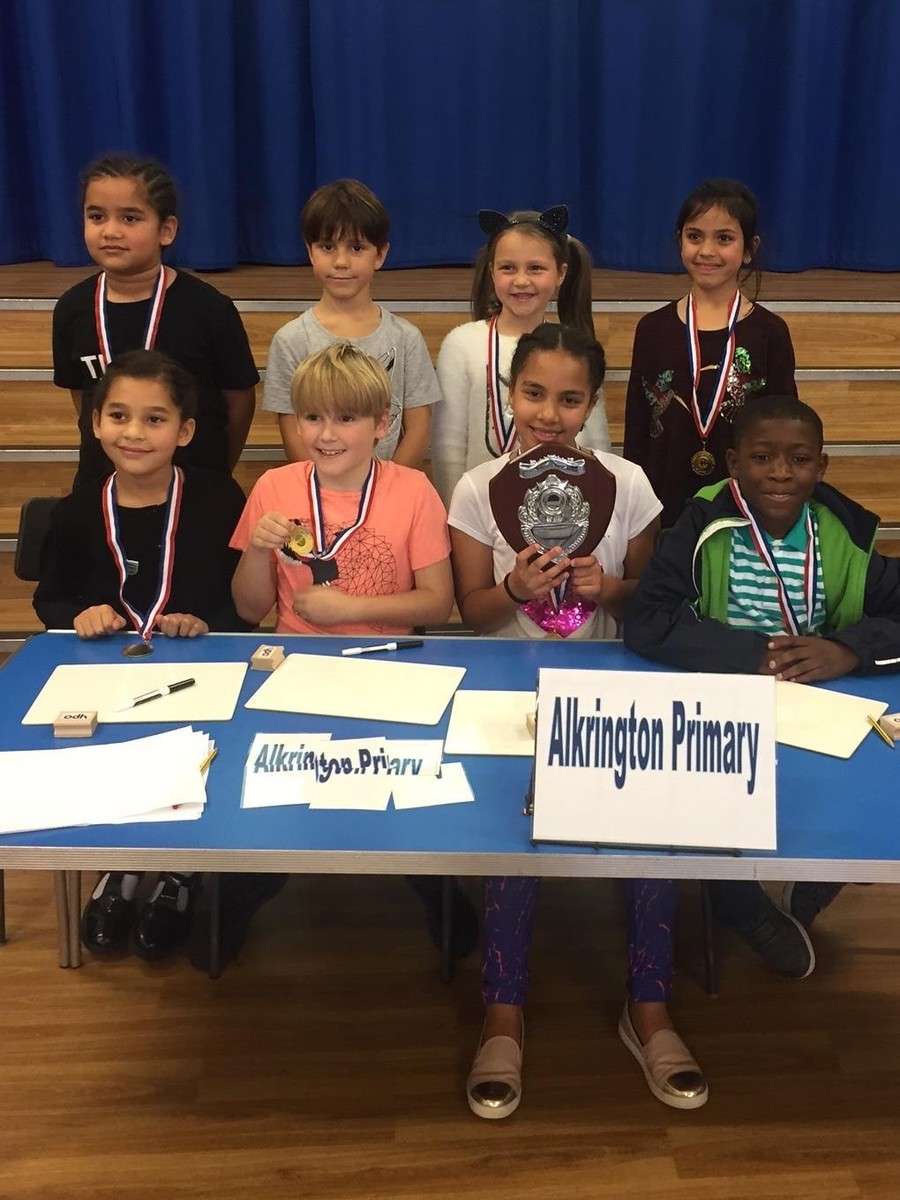 Hallowe'en Party
I hope that everyone who attended one of the parties on Thursday 19th October enjoyed them selves. See some pictures below from the KS2 party during the evening.
Be Healthy, Stay Safe Week
Classes have been, during the week beginning 16th October, involved in activities which encourage them to be healthy and stay safe. Activities include visits from the Fire Service, with training on cardiopulmonary resuscitation (CPR) techniques for Y5 and Y6, Yoga sessions, talks from the School Nurse and from Oral Health Professionals and a talk from a charity representative, who might put into perspective the lives of our children with those of children from Uganda. Pictures to appear below; soon!
What else is coming up..........
Here are some of the events and activities planned for later in the Spring term 2018
Thursday 1st March – World Book Day
Monday 5th March – Assessment Week
Thursday 8th March - KS2 Disco and Talent Show
Thursday 15th March – Class Photographs
Wednesday 21st and Thursday 22nd March – Parents' Evenings
Friday 23rd March – Y5/6 Spelling Competition at Boarshaw
Monday 26th March – Y3/4 Spelling Competition at Elm Wood
Thursday 29th March – Break up for Easter Holiday
Monday 16th April – Return to school
End of Year Awards for 2016 - 2017
Congratulations to those pupils who have been presented with an award. There were class awards and awards for 100% attendance during the year 2016 - 2017.
Winners of the 100% attendance Awards were:
Adil and Alim Ajani in Reception
Oliver Marsh, Mason McCarthy, Jayden Godwin and Jayden Parr in Y1
Arthur Kelsall, Dejuan Sayers, Dylan Chingo and Faith McKenna in Y2
Anas Ajani and Talia Sutton in Y3
Nifemi Akinwande, Louis Kagame, Stanley Morrison and Isabelle Palmer-Jameson,
Jessica Bonar, Toby Farrington, Alfie Halliday, Luke Smith and Eve Williamson also in Y4
Paige Kibbler, Maddison Oxley-Parnell, Luara Aideyan, Grace Beswick & Abigail Wellens in Y5
Stephen and Mark Edwards, Daniel Turner and Millie Willcox in Y6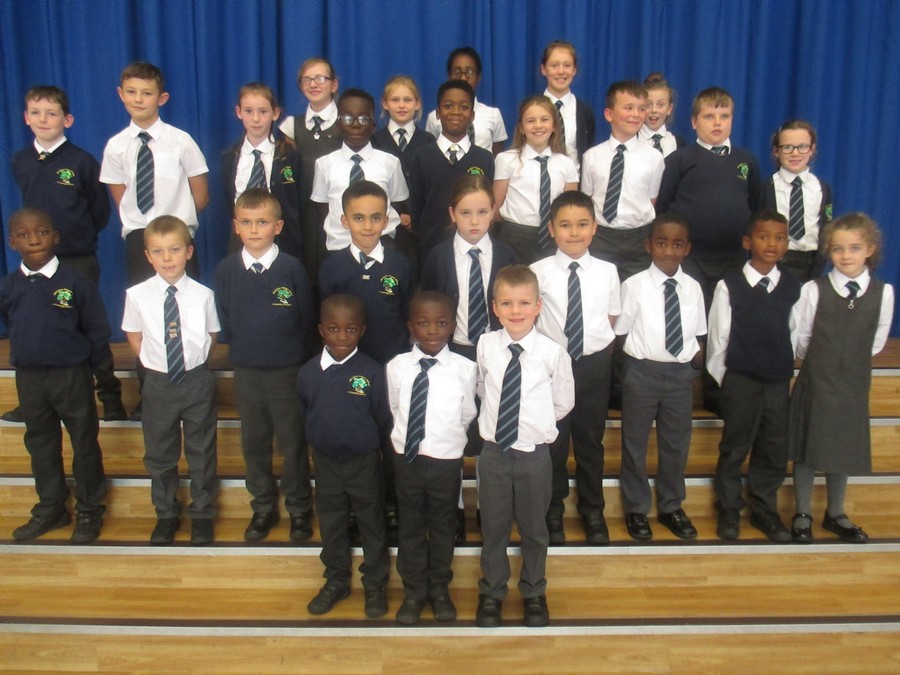 Parent View
The official way to tell OfSTED what you think about our school is through the Parent View website.
When we get a call from OfSTED about an impending inspection ( we are told on the afternoon of the day before the inspection ) we have only a short time to canvas the opinions of parents and carers.
I will, of course, share the outcomes of the regular questionnaires which are completed, most recently in October 2016, however your support would be appreciated by visiting Parent View.
Here's the link. A registration, with a valid email address, and log-in are required;
https://parentview.ofsted.gov.uk/
When I looked this recently there were just 2 responses for this school, this year, so the more we get, the more representative the survey will be and a truer reflection of what parents and carers think about our school.
Thank you for your help!
£4123.92 for RMCH
Thank you to all for your generosity and help with the event for Dylan, a magnificent total raised for Royal Manchester Children's Hospital. Dylan presented a cheque from school to Philippa on Thursday 15th June.
Balloon Release for Dylan Dey Day and RMCH
You might remember the occasion, at the end of March, when we released balloons as part of the support for the Royal Manchester Children's Hospital.
The prize for the balloon which travelled furthest in the allotted time was awarded to Daniel Hadfield in Y3, whose balloon reach Whitby in North Yorkshire.
However, since then, we have had returns of tags from further afield, one in Sweden, and the one picture below was found in Denmark, by some tourists who live in Berlin, in Germany.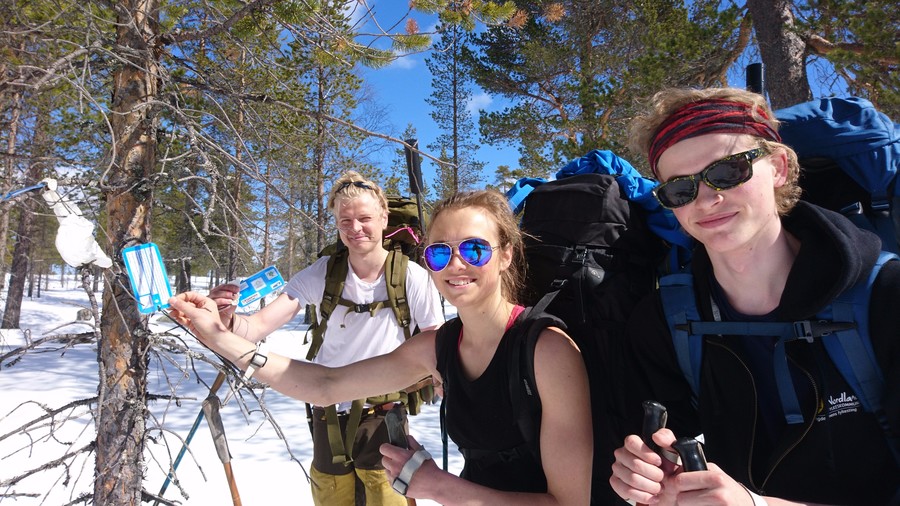 All letters and correspondence on the school website
Can't find that letter in your child's bag? Don't worry, you will be able to find it on this website.
All weekly newsletters are already here, but additional letters to year groups, or groups of year groups can be found in the tab 'School News' and the year group of your choice.
Many brief notes and reminders will now be sent by text message only, so make sure that we have the correct number and let us know if you want the message to be sent to more than one number in your family circle.
Outdoor Learning Day
Thursday 18th May was Outdoor Learning Day. Children took part in lessons and activities outdoors! Some have been on the school field or in the local woods, but where-ever they were; they were having fun, getting dirty and learning in the fresh air!
To make the occasion extra special our school was involved with a broadcast for BBC radio. There are pictures on the BBC Radio Facebook and Twitter feeds, apparently. Not quite the TV show we were promised but the BBC had a better offer - apparently. Sorry for the disappointment.
Dylan Dey Day
Thank you so much for the generosity and hard work you have shown over the last week or so to support our special day for Dylan. There have been fantastic efforts by staff and parents and donations from local businesses and others in the community in raising funds and awareness for the Royal Manchester Children's Hospital.
Dylan, who is in Y4, is being treated for a very serious condition at Royal Manchester Children's Hospital. He has been off school since the turn of the new year.
Dylan spent the day in school. We had a visit from a nurse from RMCH on the morning, and she talked to the children in assembly about Dylan's treatment and his condition.
His Special Day has included:
Balloon release with over 450 balloons, Dylan did the countdown and Humphrey, the RMCH mascot, joined us
Sale of donated items, such as rugs and cakes
Saucy Sandwich breakfast – bacon and sausage butties during the morning
Collections during other events for parents this week, like our Dance Show
Staff have made pakoras and samosas for sale to other staff
Children have made Easter Egg nests for sale
The Raffle draw has been made. A list of prize winners is available if you click here - RMCH Raffle Prize Winners
The provisional overall total for the collection/donation is £3,850. Here's Dylan with Humphrey: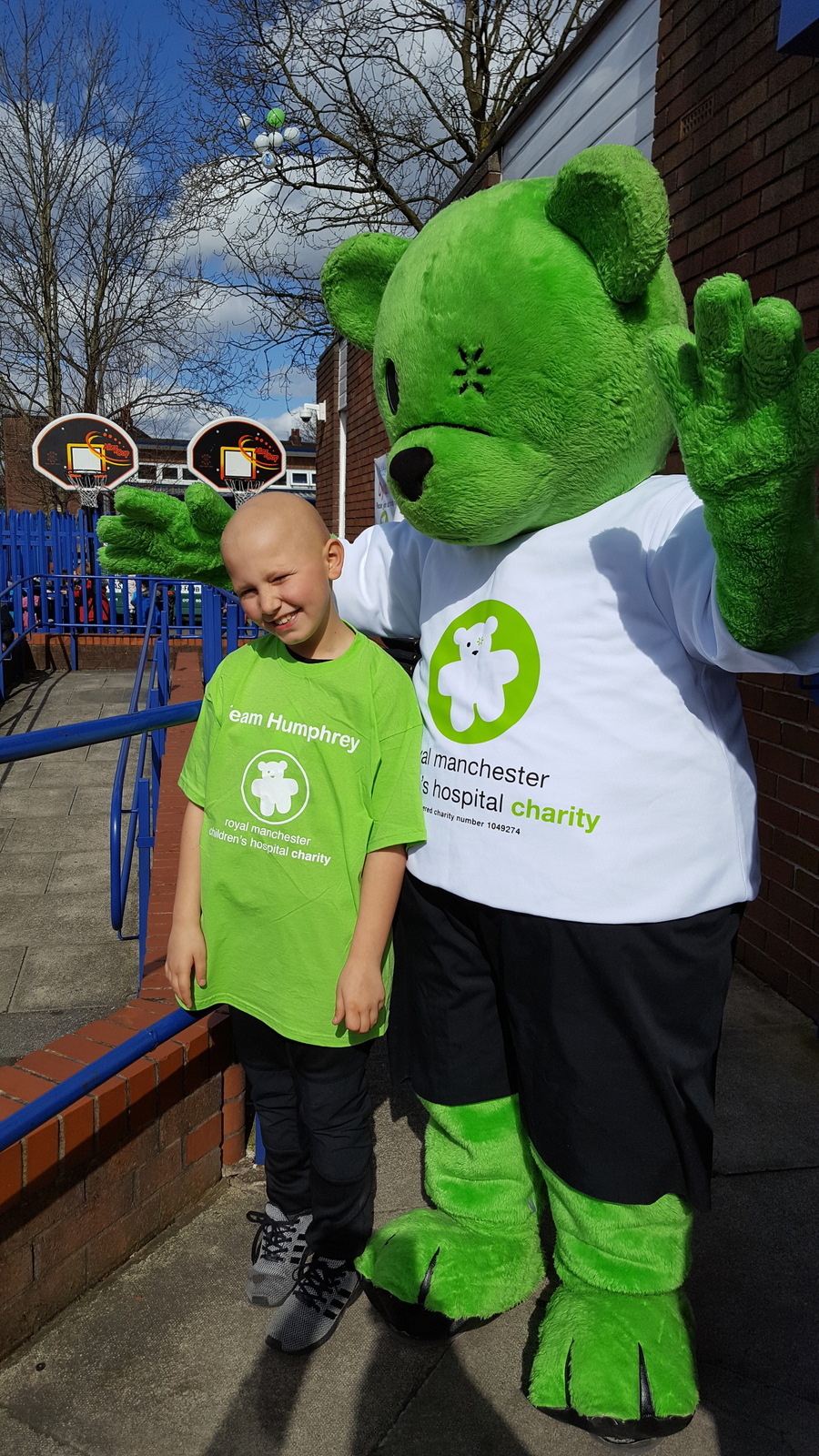 Easter Bonnets and Decorated Eggs
Well done to all who came along today in their bonnets or brought along a decorated egg. There were many fantastic efforts. Some were chosen as winners. See below for some pictures and for a list of winners click here.
World Book Day Thursday 2nd March
Well done to all who came dressed up to celebrate this day of books and stories. WInners were chosen from each class and are pictured below. Each winner will receive a £5 book voucher to spend at the Book Fair, which begins at school next Tuesday. All children will receive a £1 voucher to spend too.
Hate Crime Workshops
Children in our Y6 classes have had input from the LA's Equalities Officer, Yasin Khan, and have participated in workshops intended to aid understanding of hate crime and how best to manage it.
Congratulations to the winners of:
Alkrington's Got Talent
Nooriyah and Madiha Hussain