Welcome to the website of
Alkrington Primary School
Welcome Sessions - Parents are invited to class to meet their child's new teacher and see the new classroom on the following occasions, all at 3.15 p.m. for about 15 minutes:
Year 1 Monday 15th September
Year 2 Tuesday 23rd September
Year 3 Tuesday 16th September
Year 4 Thursday 25th September
Year 5 Monday 22nd September
Year 6 Thursday 18th September
Reception - TBC
Cyber Safety - Learn more about keeping your child safe in the world of Facebook, Mobile phones and the internet, at a briefing for parents and children, all welcome:
Wednesday 1st October at 3.15 p.m. for approx. 30 mins
Book Fair - Coming soon on Tuesday 23rd September
MacMillan Coffee Morning - all welcome on Friday 26th September
Cross Country Competition
Overall winners for 2014 were Langley. Individuals pictured below: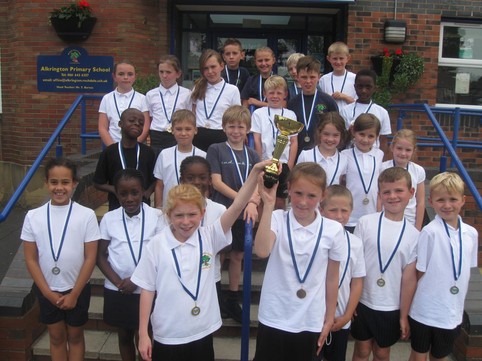 Y3 Boys Y3 Girls
Will Harrison 1. Nesly Esposito
Charlie Jones 2. Robyn Clarke
Rhys Wildbure 3. Sharon Peters
Y4 Boys Y4 Girls
Brodey Henry 1. Chelsy Barnes
Dominic Godfrey 2. Katie Wilkinson
Yansemi Ilunga 3. Samantha Pearson
Y5 Boys Y5 Girls
Joe Hurst Dummett 1. Jessica Higgins
Fortune Ndlovu 2. Faith McGovern
Harvey Twiddy 3. Alex Robinson
Y6 Boys Y6 Girls
Finlay Tyson 1. Ashleigh Beard
Matthew Willcox 2. Olivia Watson
Matthew Dolan 3. Louise Woodhouse
Inter School Cross Country Races coming soon are:
Thursday 18th September at St. Thomas More

Thursday 25th September at St. Michael's

Tuesday 7th October at Alkrington

Tuesday 14th October at Middleton Parish

Monday 20th October at Elm Wood

Flash Mob Dance
Click on the link below to access the video clip showing children from KS2 in Mr. Torr's Dance group. Be patient - it takes a bit to get going!