Welcome to the website of
Alkrington Primary School
Summer Holiday
The summer holidays have arrived. School is closed to pupils until Wednesday 6th September. Summer Holiday Club is open for three weeks beginning on Monday 24th July.
The School Business Manager, Mrs Hollywood, is working through most of the holiday if you have any enquiries. On Monday 4th and Tuesday 5th September, office staff will be working to answer your questions and to pick up new uniform etc.
If all that fails you can send an email to the Headteacher, Mr. Barnes on:
tbarnes@alkrington.rochdale.sch.uk
Enjoy the summer!
End of Year Awards
Congratulations to those pupils who have been presented with an award. There were class awards and awards for 100% attendance during the year 2016 - 2017.
Parent View
The official way to tell OfSTED what you think about our school is through the Parent View website.
When we get a call from OfSTED about an impending inspection ( we are told on the afternoon of the day before the inspection ) we have only a short time to canvas the opinions of parents and carers.
I will, of course, share the outcomes of the regular questionnaires which are completed, most recently in October 2016, however your support would be appreciated by visiting Parent View.
Here's the link. A registration, with a valid email address, and log-in are required;
https://parentview.ofsted.gov.uk/
When I looked this recently there were just 2 responses for this school, this year, so the more we get, the more representative the survey will be and a truer reflection of what parents and carers think about our school.
Thank you for your help!
£4123.92 for RMCH
Thank you to all for your generosity and help with the event for Dylan, a magnificent total raised for Royal Manchester Children's Hospital. Dylan presented a cheque from school to Philippa on Thursday 15th June.
Balloon Release for Dylan Dey Day and RMCH
You might remember the occasion, at the end of March, when we released balloons as part of the support for the Royal Manchester Children's Hospital.
The prize for the balloon which travelled furthest in the allotted time was awarded to Daniel Hadfield in Y3, whose balloon reach Whitby in North Yorkshire.
However, since then, we have had returns of tags from further afield, one in Sweden, and the one picture below was found in Denmark, by some tourists who live in Berlin, in Germany.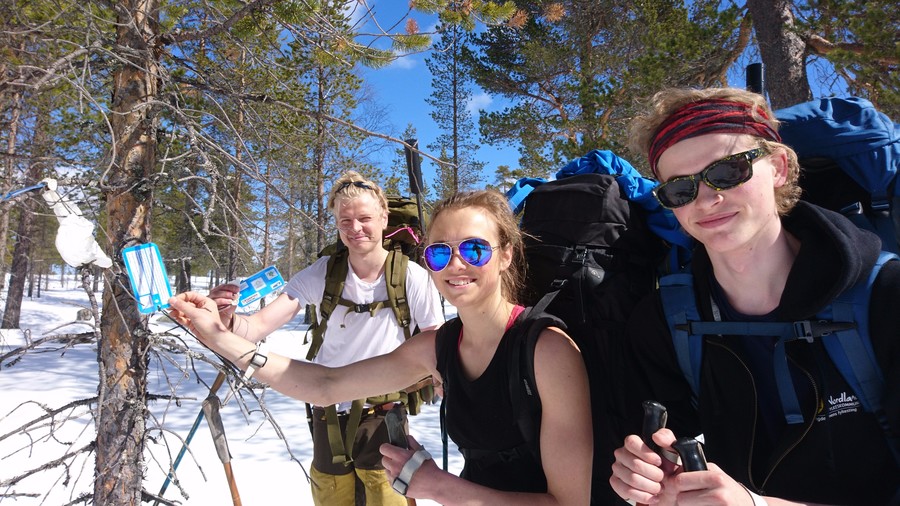 All letters and correspondence on the school website
Can't find that letter in your child's bag? Don't worry, you will be able to find it on this website.
All weekly newsletters are already here, but additional letters to year groups, or groups of year groups can be found in the tab 'School News' and the year group of your choice.
Many brief notes and reminders will now be sent by text message only, so make sure that we have the correct number and let us know if you want the message to be sent to more than one number in your family circle.
Outdoor Learning Day
Thursday 18th May was Outdoor Learning Day. Children took part in lessons and activities outdoors! Some have been on the school field or in the local woods, but where-ever they were; they were having fun, getting dirty and learning in the fresh air!
To make the occasion extra special our school was involved with a broadcast for BBC radio. There are pictures on the BBC Radio Facebook and Twitter feeds, apparently. Not quite the TV show we were promised but the BBC had a better offer - apparently. Sorry for the disappointment.
Dylan Dey Day
Thank you so much for the generosity and hard work you have shown over the last week or so to support our special day for Dylan. There have been fantastic efforts by staff and parents and donations from local businesses and others in the community in raising funds and awareness for the Royal Manchester Children's Hospital.
Dylan, who is in Y4, is being treated for a very serious condition at Royal Manchester Children's Hospital. He has been off school since the turn of the new year.
Dylan spent the day in school. We had a visit from a nurse from RMCH on the morning, and she talked to the children in assembly about Dylan's treatment and his condition.
His Special Day has included:
Balloon release with over 450 balloons, Dylan did the countdown and Humphrey, the RMCH mascot, joined us
Sale of donated items, such as rugs and cakes
Saucy Sandwich breakfast – bacon and sausage butties during the morning
Collections during other events for parents this week, like our Dance Show
Staff have made pakoras and samosas for sale to other staff
Children have made Easter Egg nests for sale
The Raffle draw has been made. A list of prize winners is available if you click here - RMCH Raffle Prize Winners
The provisional overall total for the collection/donation is £3,850. Here's Dylan with Humphrey: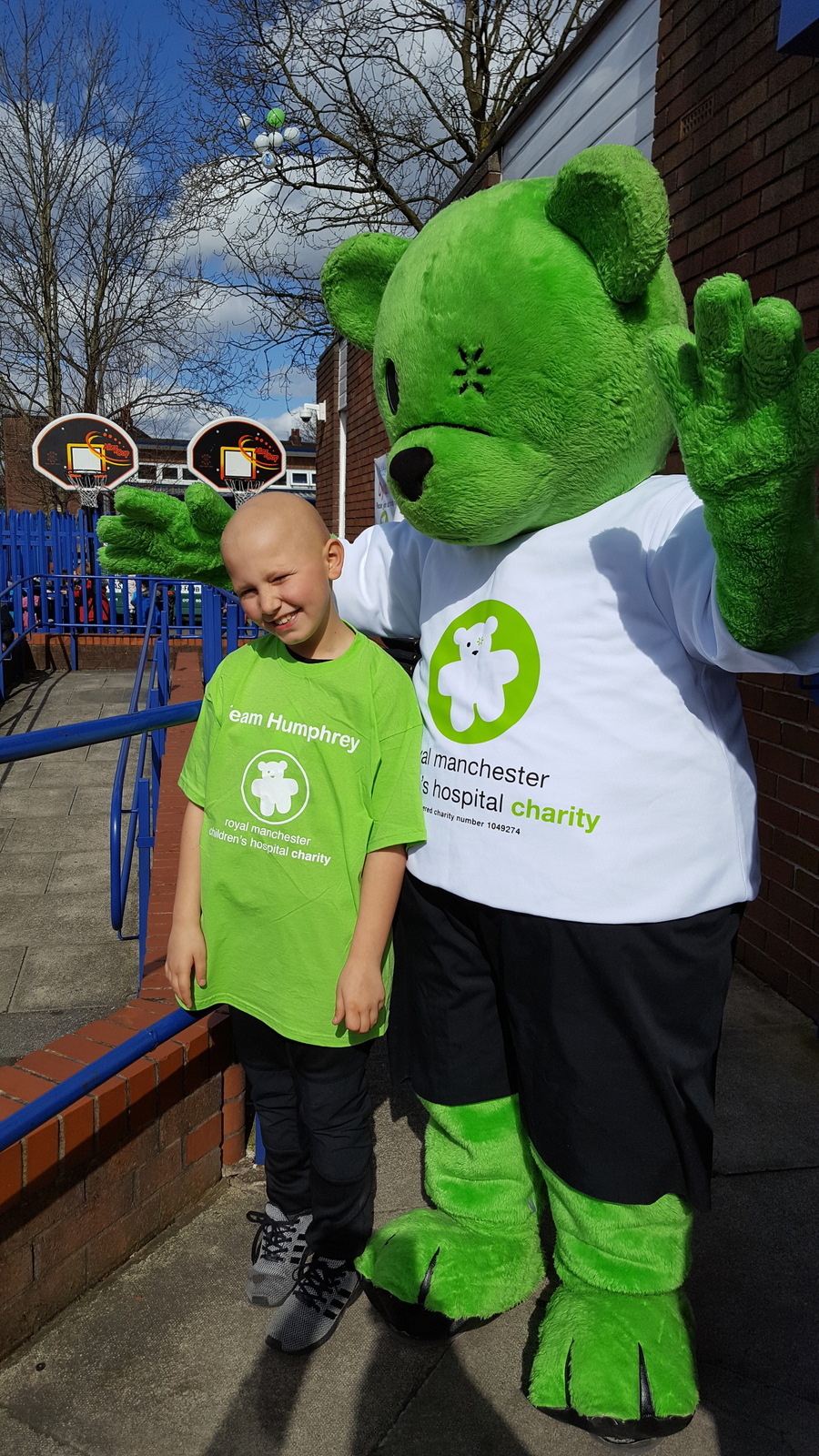 Easter Bonnets and Decorated Eggs
Well done to all who came along today in their bonnets or brought along a decorated egg. There were many fantastic efforts. Some were chosen as winners. See below for some pictures and for a list of winners click here.
Spelling Bee winners 2017
Following the victory of our Times Table team in the competition in October against our partner schools Boarshaw and Elm Wood Primary Schools, our Spelling team were winners of the competition. Congratulations to the team of Y5 and Y6 children, who were:
Yasin, Sharon, Safia and Nooriyah in Y5 and;
Daniel, Ava, Chantelle and Fahm in Y6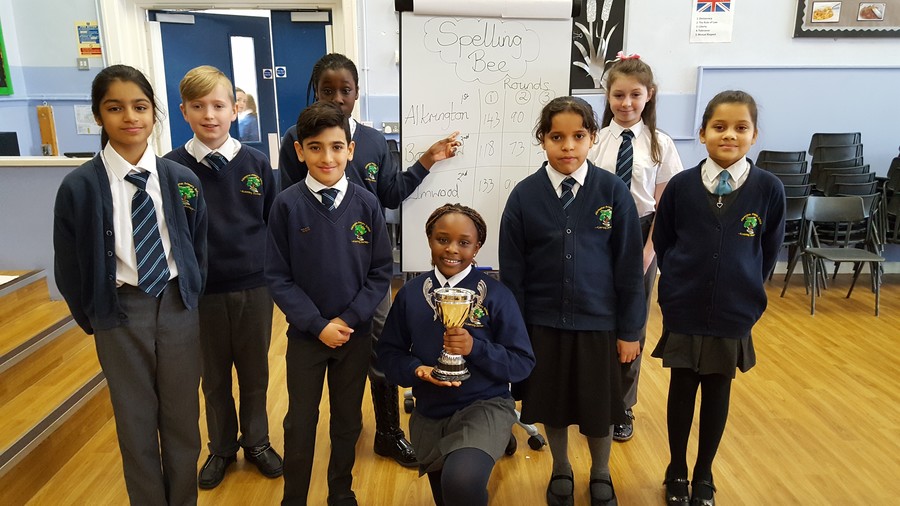 World Book Day Thursday 2nd March
Well done to all who came dressed up to celebrate this day of books and stories. WInners were chosen from each class and are pictured below. Each winner will receive a £5 book voucher to spend at the Book Fair, which begins at school next Tuesday. All children will receive a £1 voucher to spend too.
Hate Crime Workshops
Children in our Y6 classes have had input from the LA's Equalities Officer, Yasin Khan, and have participated in workshops intended to aid understanding of hate crime and how best to manage it.
Congratulations to the winners of:
Alkrington's Got Talent
Nooriyah and Madiha Hussain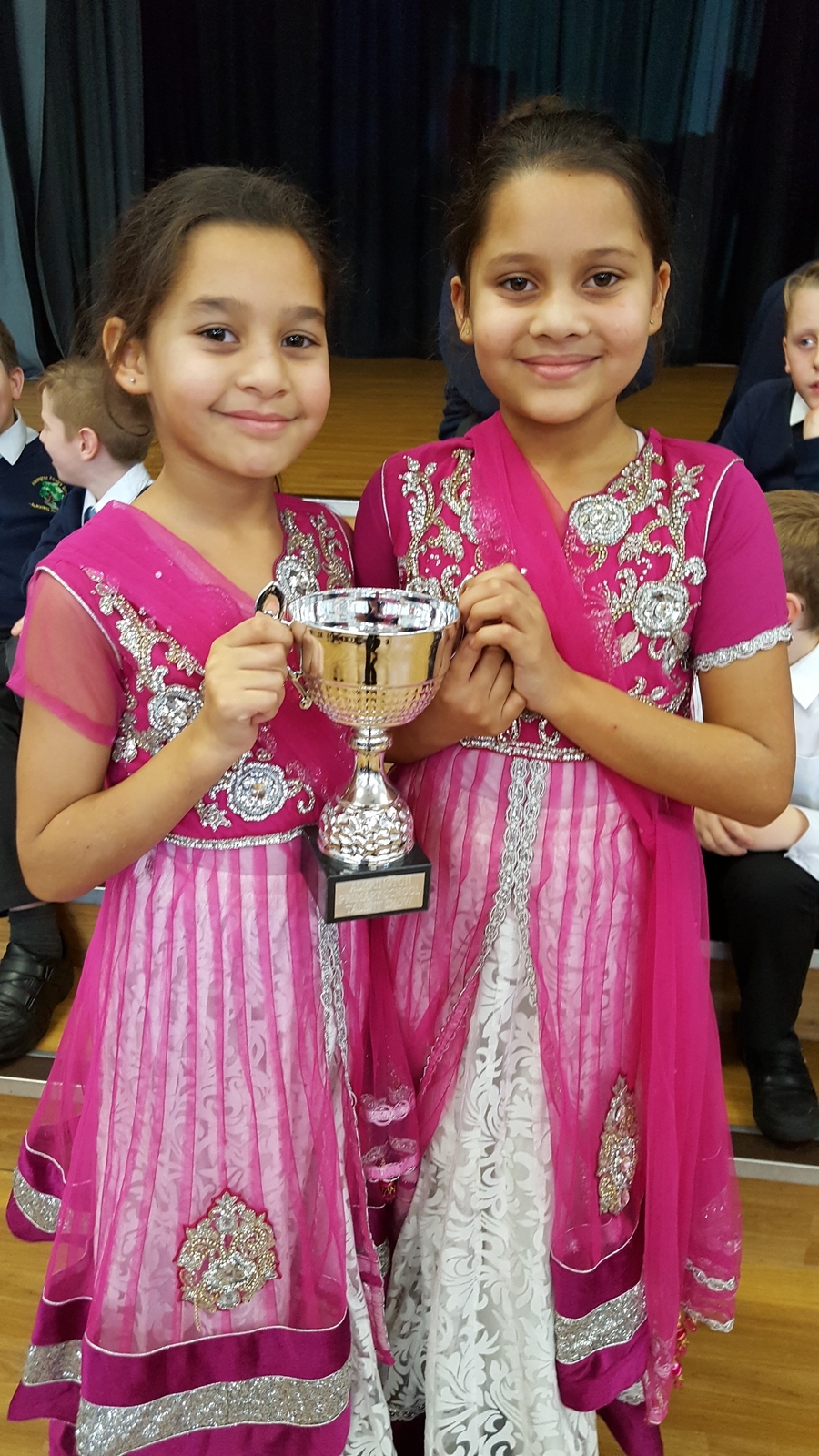 Middleton Schools' Times Table Champions
Our school team, made up of pupils in Y5 and Y6, were victorious in the competition held at Elm Wood Primary School on Friday 14th October. See pictured below the winning team, with teacher Aimee Hill.
Team members: Y6 - Mikey Farrington, Imogen Chadwick, Ava Walsh, Ali Al-Attar and Chantelle Chingo
Y5 - Louie Gagan, Sharon Peters, Connor Darbyshire, Nicole Povah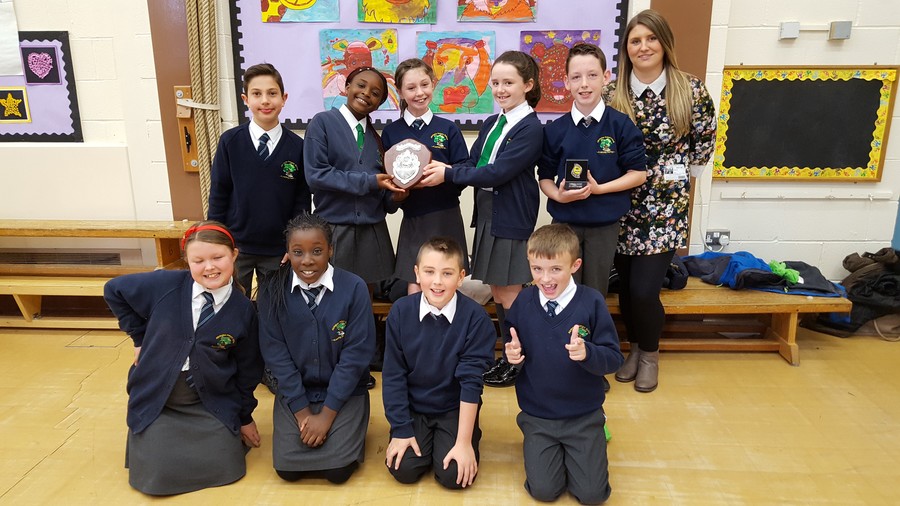 Rochdale Recycle4Schools
On 18th May children from our school went to Parkfield Primary School in Middleton to meet Nadiya Hussain, winner of BBC TV's 'The Great British Bake-Off' for the presentation of awards following the recycle4schools scheme earlier this year.
Parkfield were judged the winning school as their ratio of pledges to pupils on roll was greatest, but our school had the highest number of pledges, a magnificent 2,734. Thank you to all who helped to raise awareness of recycling in Rochdale.
We did have some winners however; Ollie Burgess in Y2 had the highest number of any individual from any school, so received a 1st place award, and Jayden Parr in Reception came 3rd.
The slideshow below has pictures of our children ( the top ten in our school ) with Nadiya, along with some from other schools who were among the highest individual pledge getters!
A special well-done and 'Thank You' to Mrs Nixon, our own Eco-Warrior, who organised the scheme in our school.
Dance Festival
More great performances from children in Y3, 4 and 5, and staff, in this year's Dance Festival. Well done team! See some pictures below: